After leaving Monument Valley, we headed out for Arches and Canyonlands National Parks.
Our first stop is at Newspaper Rock to catch up on non-recent events.
Newspaper Rock State Historic Monument is a Utah state monument featuring a rock panel carved with one of the largest known collections of petroglyphs. The first carvings at the site were made around 2,000 years ago, left by people from the Archaic, Anasazi, Fremont, Navajo, Anglo, and Pueblo cultures. They say that they could be anything from story telling, hunting magic, clan symbols, or even accent graffiti.The site is located at the south entrance to Canyonlands National Park, south of Moab Utah.
Canyonlands National Park Utah, after the storm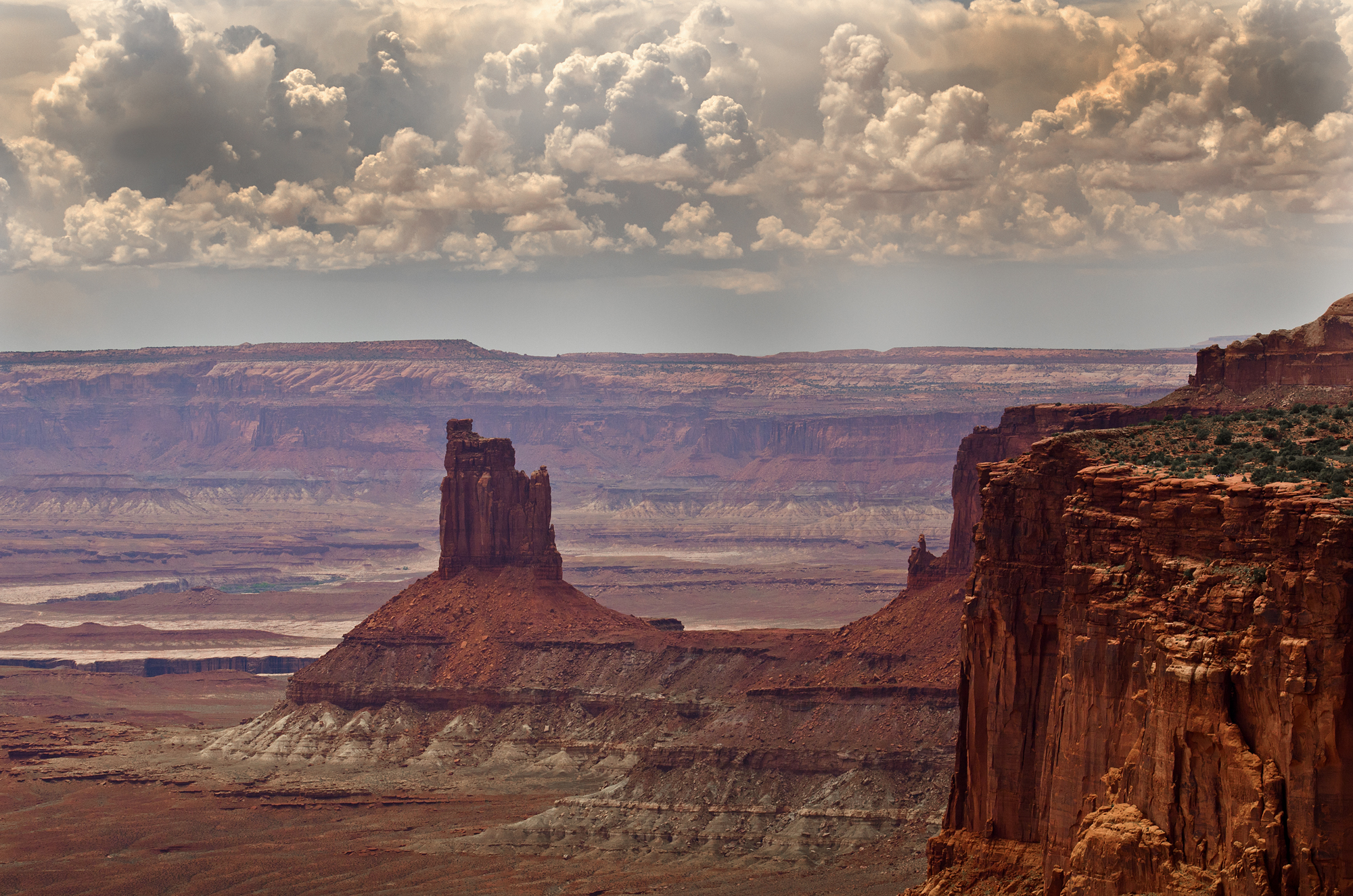 Newspaper Rock Petroglyphs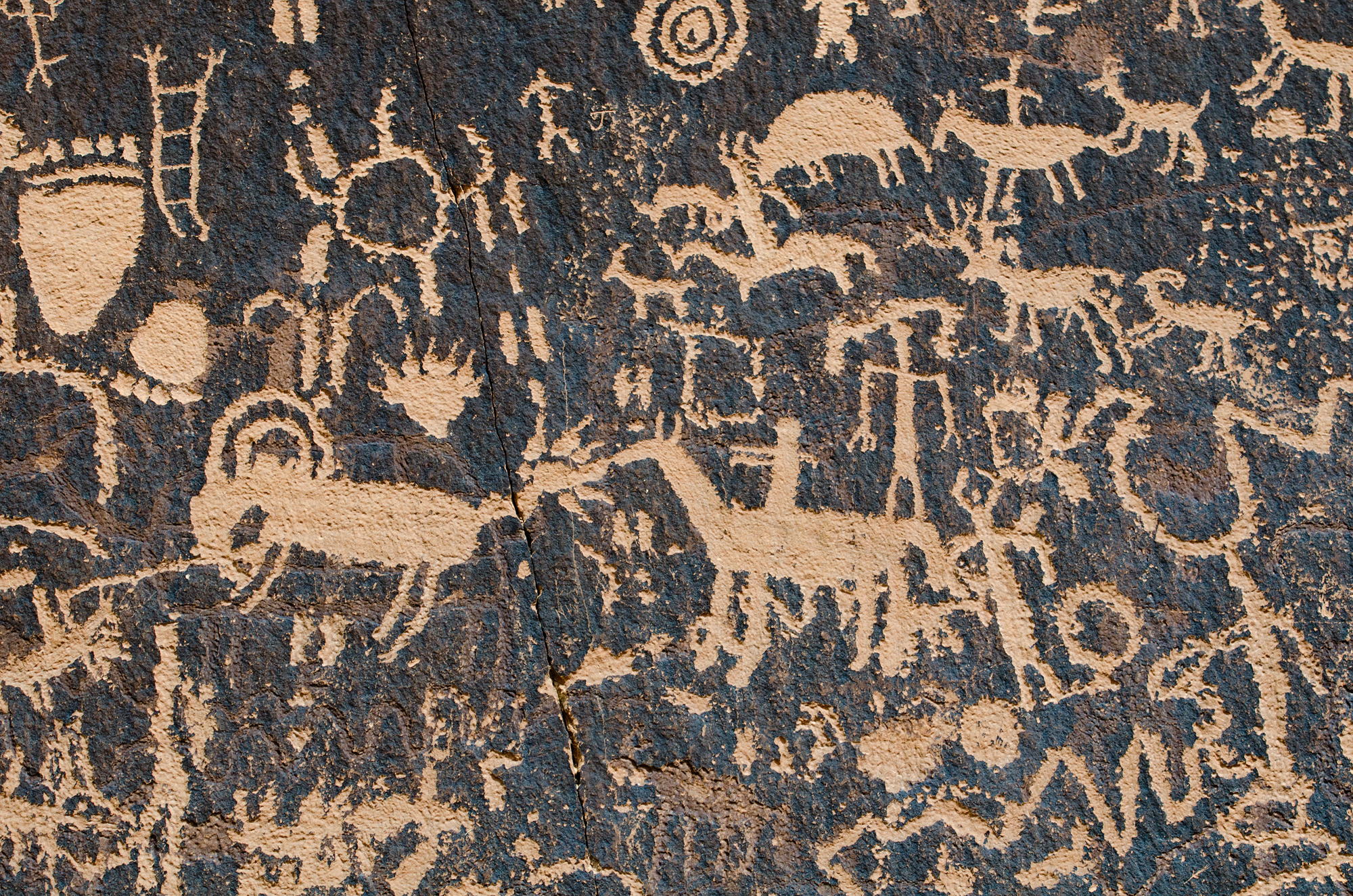 Newspaper Rock Petroglyphs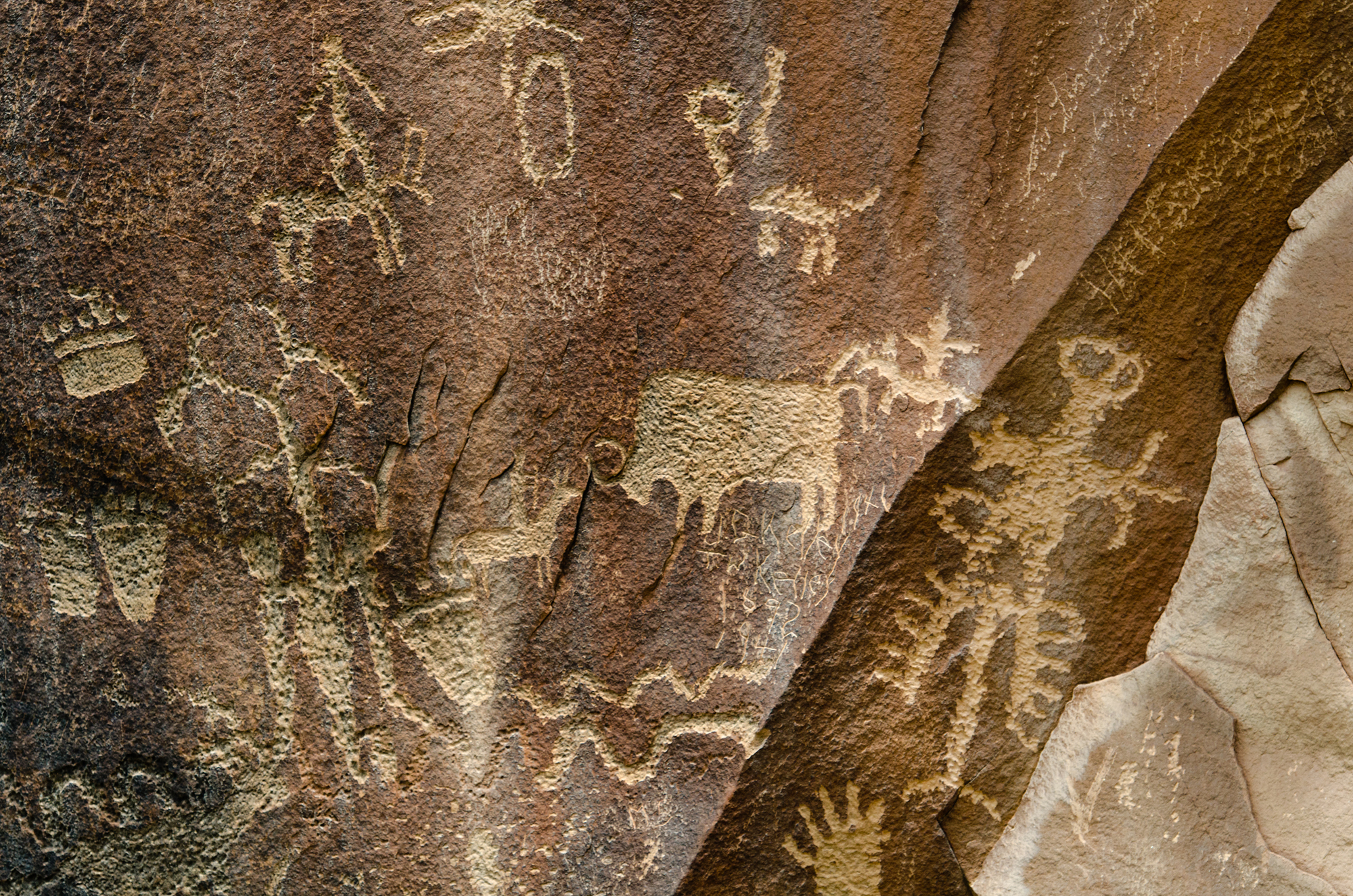 The town of Moab is a mile or two south of the entrance to Arches National Park. I had looked it up and found it to be a place of great beauty and very photogenic. Unfortunately for us, the day we had to explore the area it was raining and the light was flat. We had enjoyed what was described by a local as "One of the best Lightning storms in years." Mini did not agree on the enjoy part. She was pretty scared and tracked down the hotel outer and inner door with no coaxing. That day her memory of our "safe house" was deeply embedded.
Park Avenue, Arches National Park Utah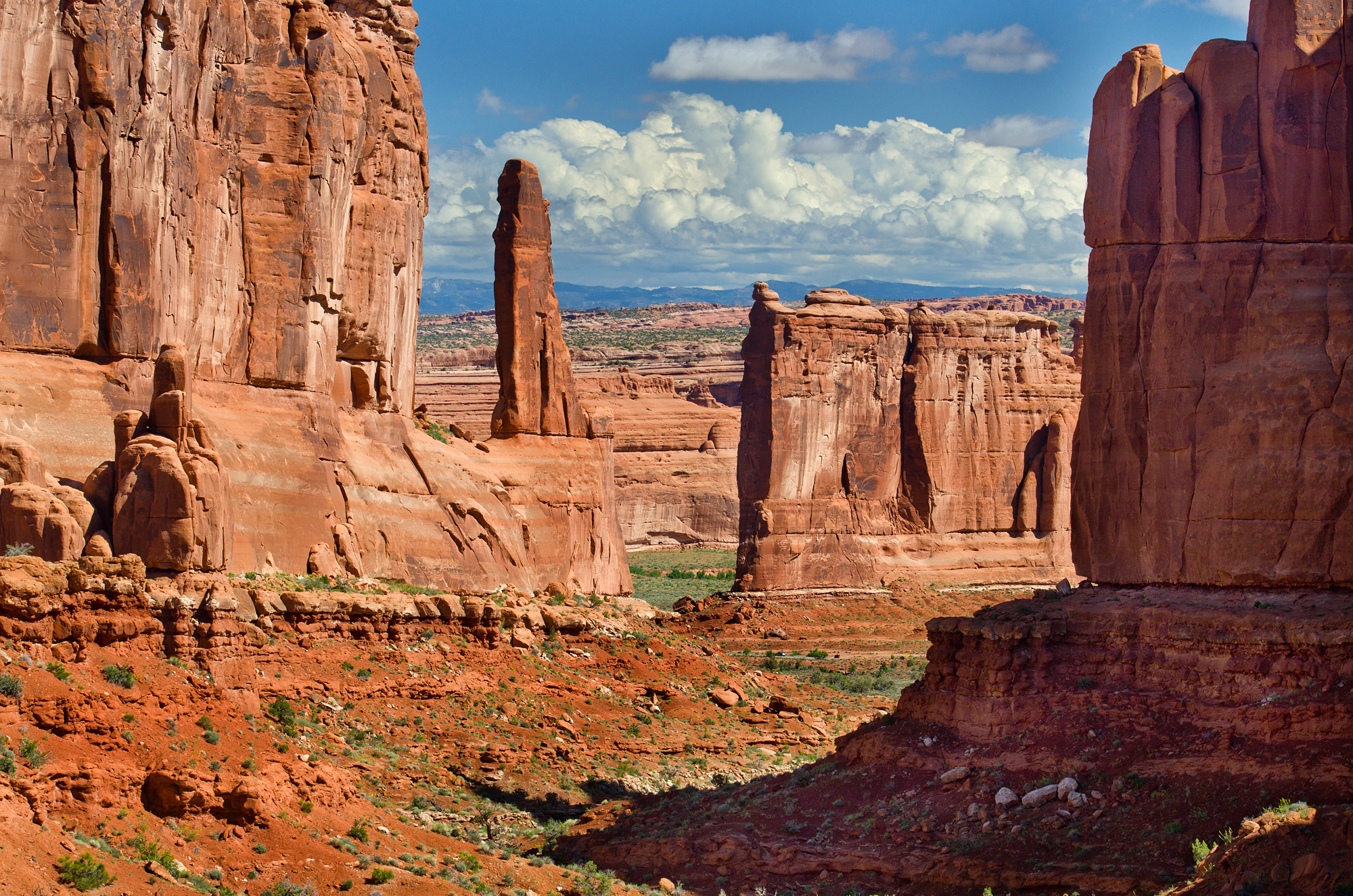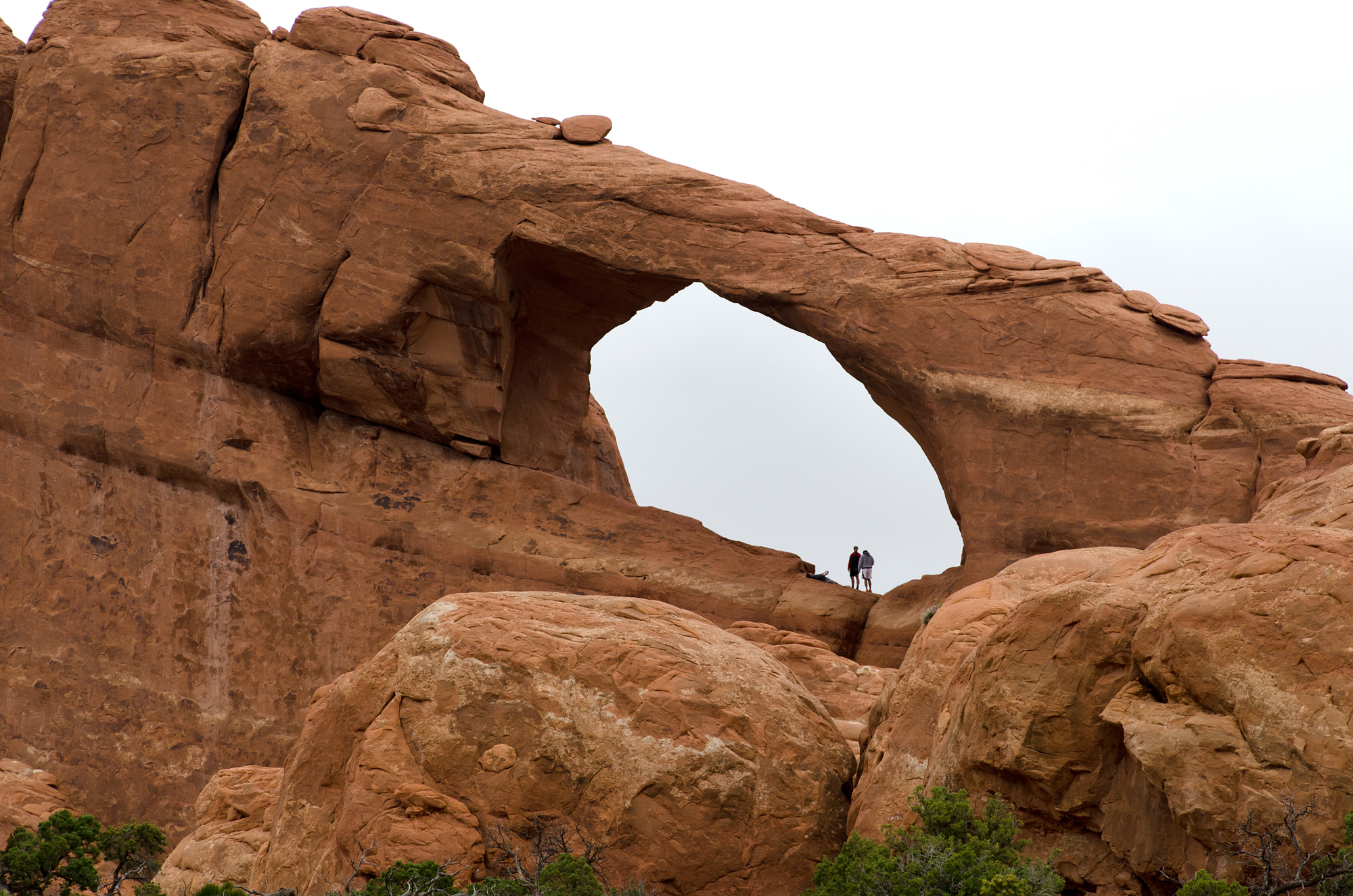 Arches National Park Utah
Being a great outdoor destination, there are a numerous fine-dining establishments to help replace any weight you might have shed during the day.
Moab boasts ADVENTURE!
Every other building appears to have some sort of off road, zip line, parachuting, jogging, bicycling, and any other outdoor activity you could possibly get involved in. This was a place for people on the move. Some of these people move too fast. A great place for the Highway Patrol, also on the move, to make money. We saw no less than three Utah High Patrol cruisers outside of Arches Nation Park pulling speeders over all day.
Canyonlands National Park is a spectacle. That is all you can say for it. Extraterrestrial landscapes, breathtaking vistas, and the most vivid colors. As the Forrest Gump said in his movie, "when the sun comes up, I couldn't tell where heaven stopped and the earth began." I cannot imagine pioneers traveling through this country without the comfort of air conditioning. This looks great, but you would not want to summer here.
Canyonlands National Park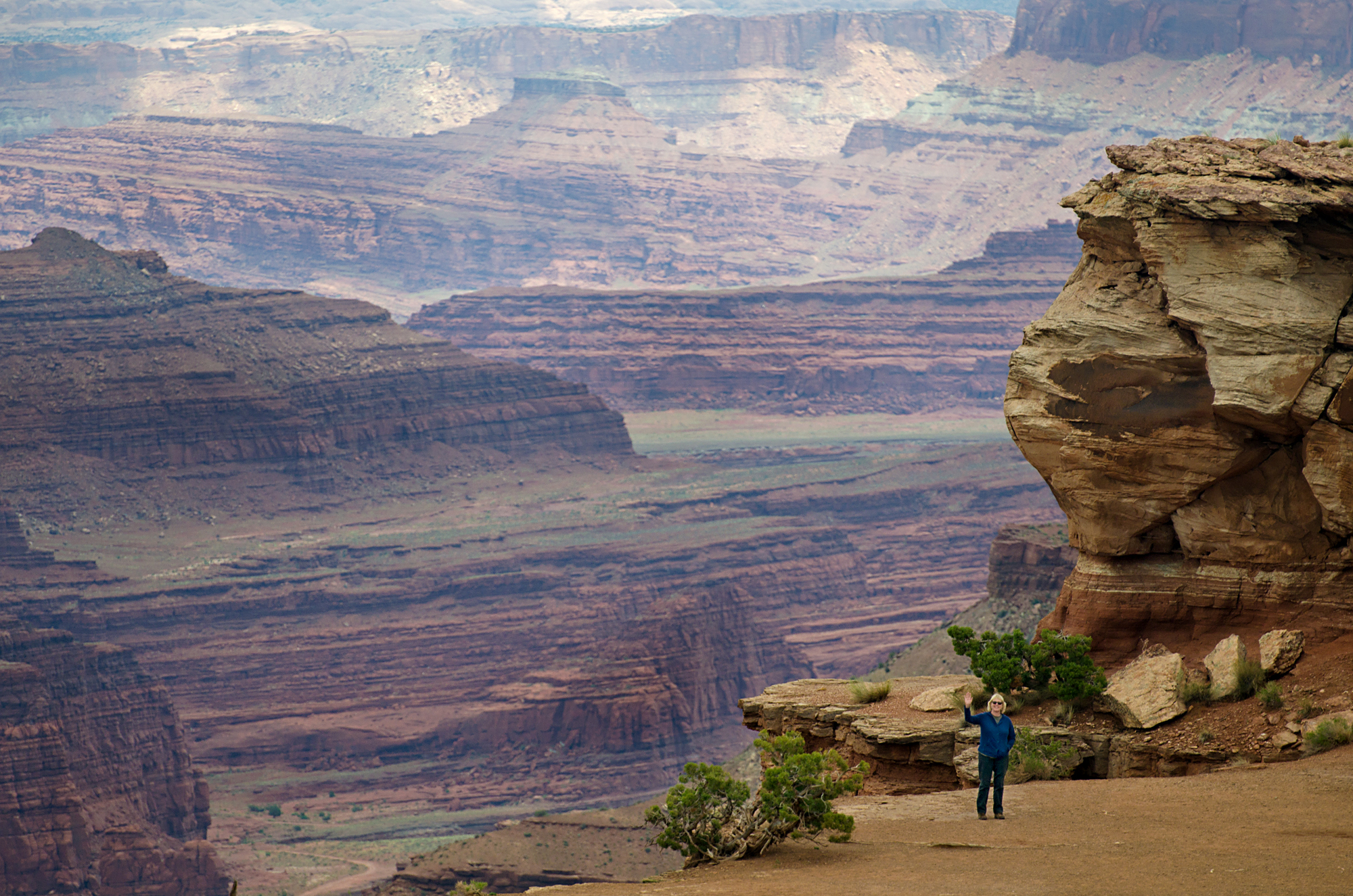 Canyonlands National Park after the storm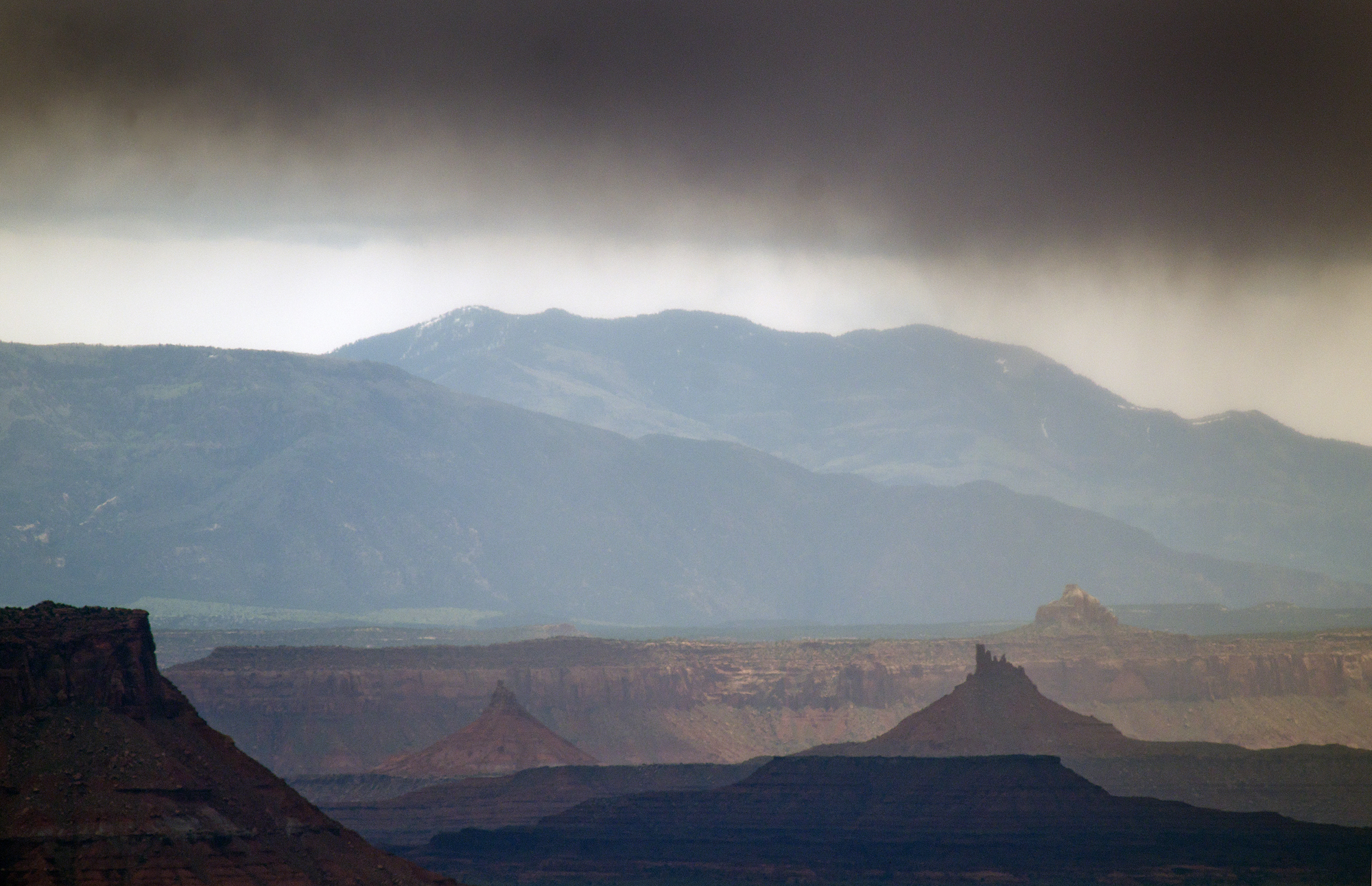 We visited a rock and mineral shop on the edge of Moab, and purchased some gems from Brazil. How they ended up there is a mystery for the ages.
A small boy and his mother approached Mini and I with the question, "Can I pet her?
Let me say first, that this is no nervous schizophrenic little dog you would not mind playing fetch at the rim of the Grand Canyon. She is well behaved and poses no immediate threat. That being said, "she has never bit anyone yet." Famous last words. I warn those who might stray a hand within reach expectant of a warm greeting and a lick. She weighs four pounds dressed out, but sports razor sharp teeth. A formable opponent.
After that, they walked off disappointed, but not wounded. Who wants to find out?
Mini has still never bit anyone but me, and I probably deserved it.
Copyright secured by Digiprove © 2014