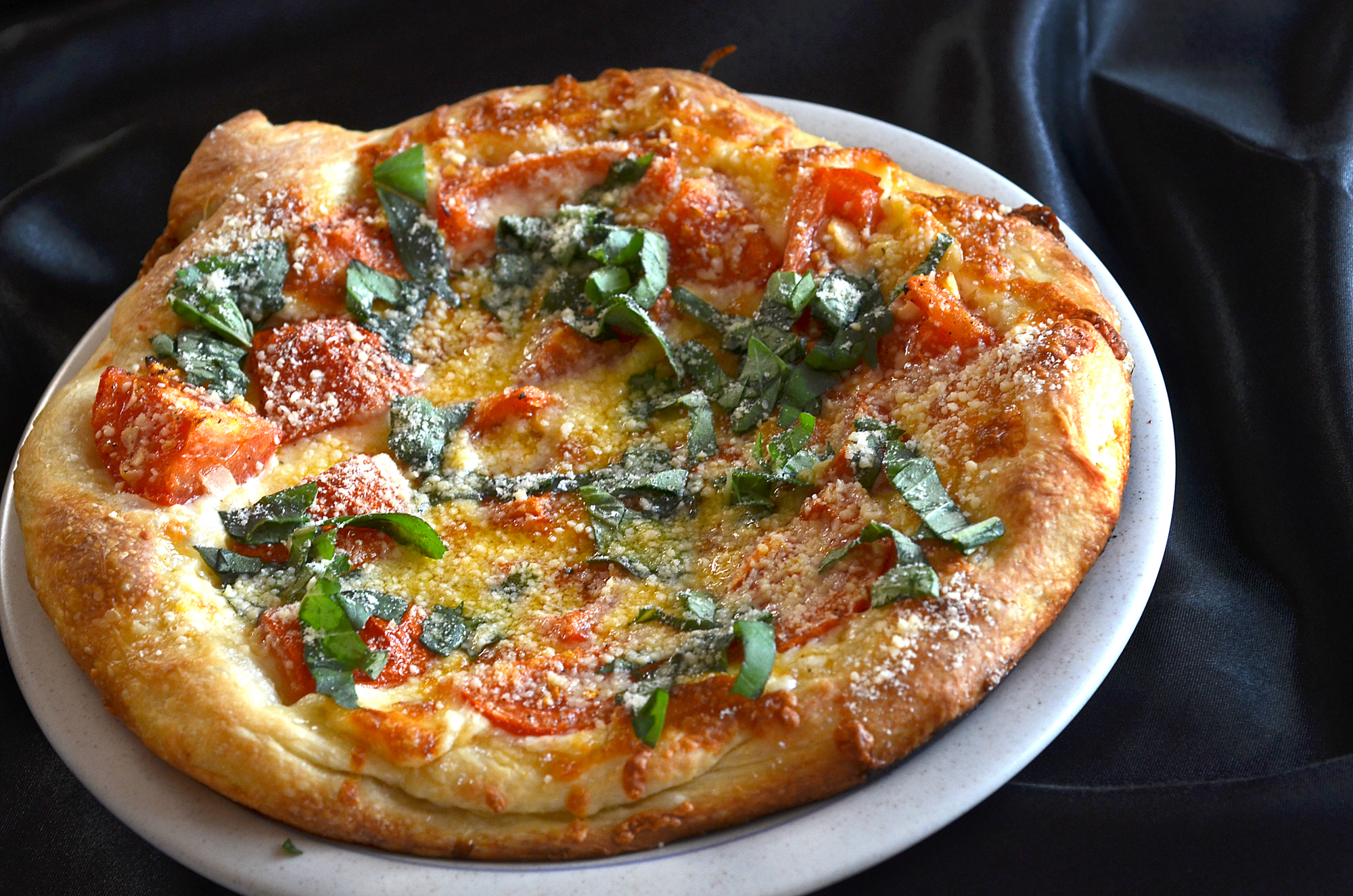 Simple is better. And this pizza is great! I first had this pizza in Napoli (Naples) on a tour. Our guide told us that Pizza Margherita, was invented in 1889, when the Royal Palace of Capodimonte commissioned the Neapolitan pizzaiolo Raffaele Esposito to create a pizza in honor of the visiting Queen Margherita. Of the three different pizzas he created, the Queen strongly preferred a pie swathed in the colors of the Italian flag: red (tomato), green (basil), and white (mozzarella). Supposedly, this kind of pizza was then named after the Queen as Pizza Margherita. This was later to be refuted, but not in Napoli!
This pizza goes well with a fine red wine, poor white wine, beer, or scotch, all depends what you have on hand.
Ingredients
Pizza Dough*
2 fresh tomatoes
1 cup mozzarella cheese
1 tbsp. Olive Oil
6 garlic cloves
sprinkle of salt and pepper to taste
¼ cup Parmesan Cheese
¼ cup fresh cut basil
*Make your favorite pizza dough. Mine just happens to be the exact same recipe as the pre-made down at Trader Joe's. So…..do I do ALL the work?
Again, I think not. Buy package and divide into two. You can make 2 skillet pizzas from one TJ package. If you want a scratch pizza dough recipe, my friend Maria sent me a great one. (Bottom of post)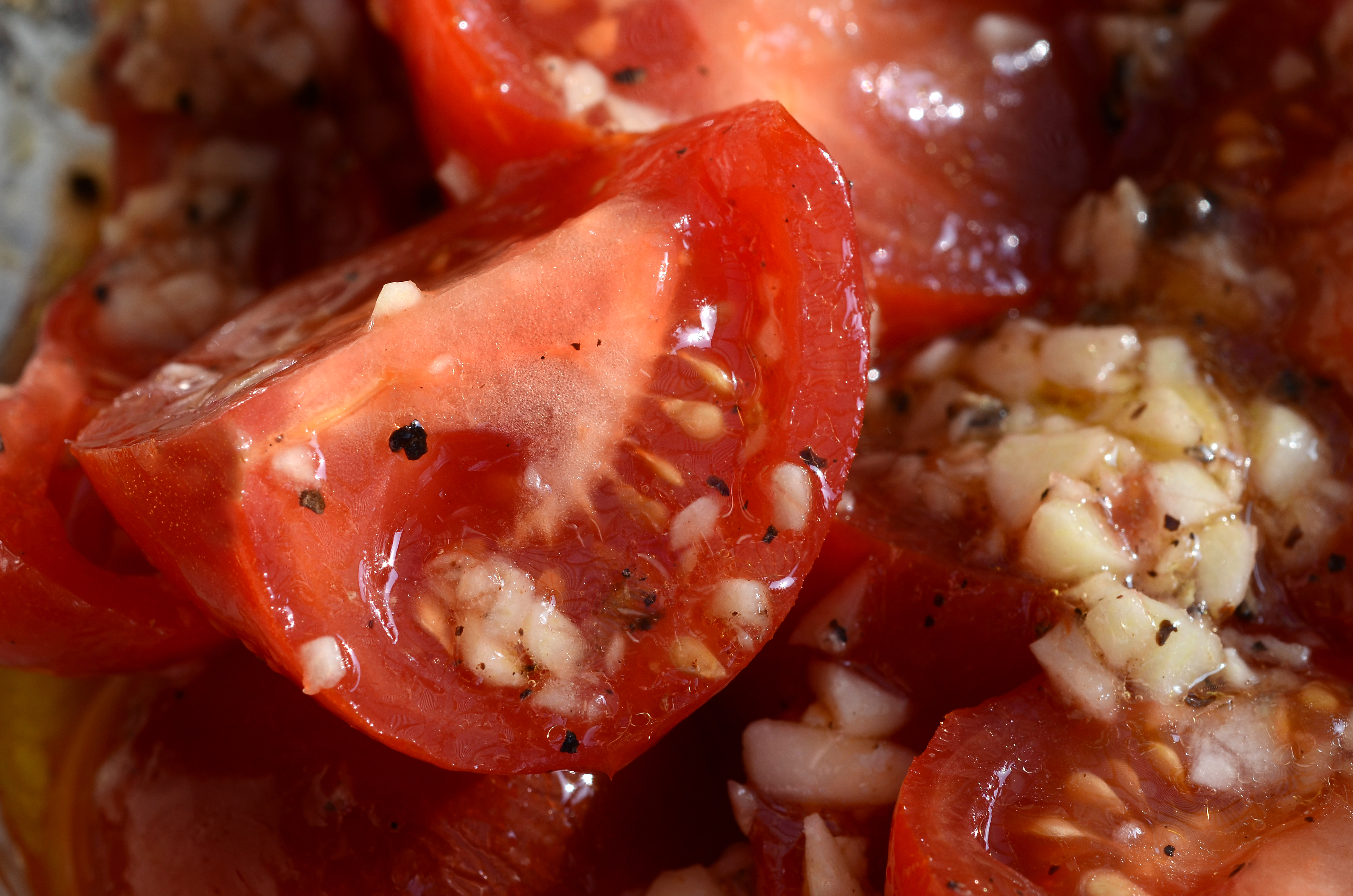 Preheat oven to 450 degrees. Spread dough out in preheated 12 inch skillet. (heat skillet on top burner for one minute, wait a few more before spreading dough) Spread mozzarella cheese on dough. Peel, and chop garlic cloves, mix with coarse chopped tomatoes (big chunks, see photo) olive oil, add salt and pepper, mix, and spread on top of cheese. Bake in oven for 16 minutes. Remove from oven, add basil and Parmesan cheese. Let rest 2-3 minutes until Parmesan melts. Enjoy!
Word to the wise.
That skillet gets real hot, have a care when handling it!
PIZZA DOUGH
•    2 cups flour
•    1 (.25 ounce) package active dry yeast
•    1 cup warm water
•    2 tablespoons olive oil
•    2 teaspoons white sugar
•    1 teaspoon salt
Blend yeast in water and add  the sugar and olive oil. Put 2 cups of flour in large glass or plastic bowl then add the wet ingredients and stir with a fork. , when the flour is wet then add your 1 tsp of salt.  (In Italy we say salt is added far away from the yeast)
When you have a ball you can put it out on your counter dusted with flour and begin to knead the dough until it is pliable and not sticky,  add flour if need be. (This should only take a few minutes) put back into bowl, cover with plastic wrap, and put in your oven with just the oven light on.  .   Let rise until double the size.
For Schiacciata
Take sheet pan and oil the bottom with olive oil (using your hands)  Then  with your fingers poke the dough to make dents.  Once you have done this drizzle ½ to ¾ cups olive oil letting oil go into dents and sprinkle salt on top.   Bake in 450° oven until brown
Buon appetito!
Ciao, Maria
Copyright secured by Digiprove © 2014-2016