As I was surfing the net the other day, which equates to slogging through every digital advertisement on Earth, I came across a recipe for a burger with Jamaican spices. It immediately brought back fond memories of our trip to the Island mon! (every Jamaican sentence must be followed by the term "mon", which translates from the American term "man". The Canadians in turn end their statements with "ehh". Folks in my hood end with "hungh", real loud!
One of my fonder memories was the transportation on the Island.
Simply getting from Point A to Point B is one of Jamaica's most exciting adventures. Since Jamaica is part of the British Commonwealth, cars drive on the left side of the road, and the local drivers have a unique way of negotiating the highways and narrow streets in the townships: the faster the better.
On the way from the airport in Montego Bay to the Rockhouse Hotel in Negril, (a must check out!) our bus driver told us, "We will be passing right through the next town." He wasn't kidding. He only slowed to about 40 mph down narrow streets as we rocketed past unflinching pedestrians. Meanwhile, the white-knuckled tourist passengers braced for an impact that never came.
All this was done with one-handed steering, since the driver's other arm was busy pumping a clenched fist to the pounding pulse of loud Reggae music.
But I digress.
As I checked out the ingredients I immediately saw room for recipe improvement! Ha!
I soon found myself constructing a new and improved version worth mentioning as follows. This is an easy one, and tastes great!
Prep and cooking time sober, One hour
Prep and cooking time "in the bag", all afternoon. Can't find anything.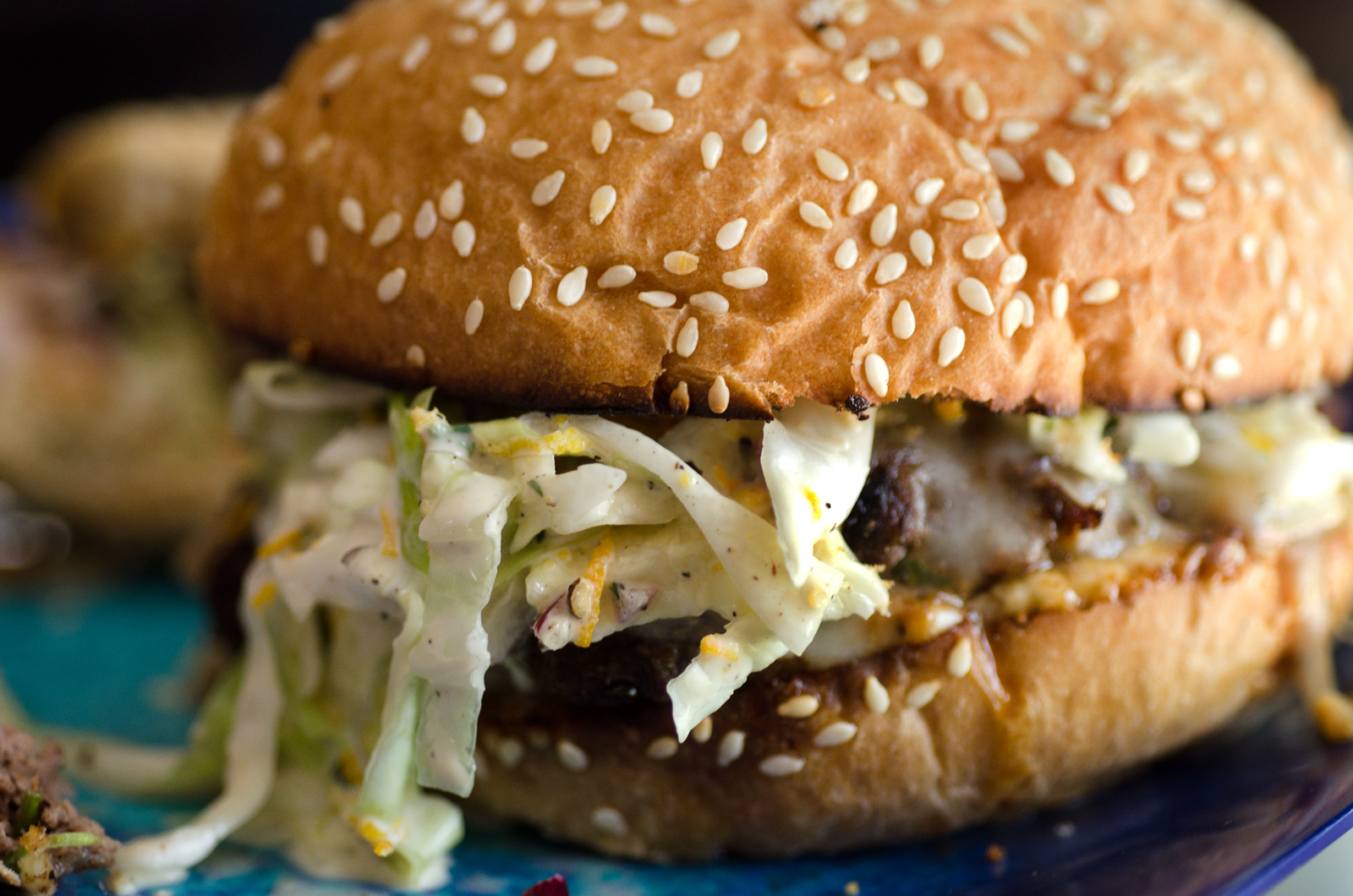 Jamaican Jack Jerk Burgers Recipe
Yield: Makes 6 burgers. Ingredients
2 teaspoons white vinegar
1 Tbsp water
3 habanero chili peppers, minced (be a man, use it all!)
1/2 cup chopped green onion, including greens
6 cloves garlic, chopped
1 Tbsp fresh thyme
1 teaspoon ground allspice
1 teaspoon ground cinnamon
1/2 teaspoon ground nutmeg
1 teaspoon ground ginger
1 shot of pancake syrup (small squeeze = 1 tbsp.)
1/2 teaspoon salt
1/2 teaspoon freshly ground black pepper
6 thick slices of Jack Cheese
2 pounds ground beef, at least 15% fat
2 cups shredded cabbage
1/3 cup chopped red onion
Pinch of chopped thyme
3 Tbsp mayonnaise
2 Tbsp of orange juice from orange you will be zesting
1 teaspoon of grated orange zest
Salt and freshly ground black pepper to taste
Method
1 In a food processor, put the vinegar, water, habanero chili, green onion, garlic, thyme, allspice, cinnamon, nutmeg, ginger, molasses, 1/2 teaspoon each of salt and pepper. Pulse until finely chopped.
2 Using your hands, gently mix the jerk mixture in with the ground beef in a large bowl until just incorporated. Do not over-mix. Shape into patties, about 1/2 inch thick and wider than the diameter of your hamburger bun. Chill about 30 minutes or until you are ready to cook. (Remember to wash hands with soap and water after handling, you will thank me later)
3 coleslaw-In a medium bowl, mix the cabbage, red onion, thyme, mayonnaise, citrus juice, zest, salt and pepper.
4 Prepare gas or charcoal grill for cooking over high direct heat. Place the patties on the clean, well-oiled grill grate. (if you find one, please send me a photo, as I have not seen a clean grill grate since childhood) Grill the burgers for about 3 minutes per side, (until you see juices leach through) add cheese, cover with a lid until cheese has melted. If you don't have a grill, you can use a large frying pan on the stove top. As the burger has so much flavor anyway, a grill is nice, but not mandatory.
Serve burgers topped with the coleslaw, with or without hamburger buns.
This is a burger that pairs with Red Stripe beer, Jamaica's national pastime!