Mango Habanero Salsa
This is a great sweet and hot salsa! I first had it from a jar from the local market. Their chef had decided to add small pebbles for added texture. A bold ingredient, definitely leading edge!
Besides the crunch of small rocks, it tasted pretty good for a jar salsa, I knew I could improve on this.
WARNING! Use less habanero peppers if you do not have the stomach of a Rhino!
Easy to make, but there are a few precautions I will state here and now that should not be ignored.
Besides the obvious, do not handle the habaneros with bare skin. I used a fork to keep them on the cutting board, a knife to excise the stem area, and a contained chopper to get the job done.
At no time did I touch them.
After I had the wife wash them, and out of personal kindness, I told her she should boil her hands right away and not touch any part of her body she has become fond of.
Second, and this is a biggie, I had all leftover jalapeño peppers excess matter in the sink. I should have scooped it out and disposed of properly.
I did not.
At the time, the garbage disposal appeared to be a good idea. Big mistake. The pepper innards were vaporized mechanically and formed a cloud of invisible doom in the kitchen. After what seemed like a lifetime, the coughing and gagging in the house subsided into a rhythmic asthmatic wheeze. Eyesight was restored later.
Breathing and eyesight can not be overstated. As always in my recipes, avoid my mistakes at all cost.
This salsa goes well with chips, or as a dip, or thrown on anything you can think of.
Add to Chicken or steak?
I say thee yeah!
4 Tomatoes (cored)
6 oz crushed pineapple in pineapple juice
mango puree (2 mangoes)
1 fire roasted red bell pepper (1/2 cup)
4 jalapeño peppers (cored)
1 diced onion
1 tsp sugar
6 habanero peppers (or less, say about 2)
1/4 cup cilantro
1 tsp salt
1 good squirt lime juice concentrate( a bad squirt would involve lack of concentration or astral traveling)
1/2 tsp garlic powder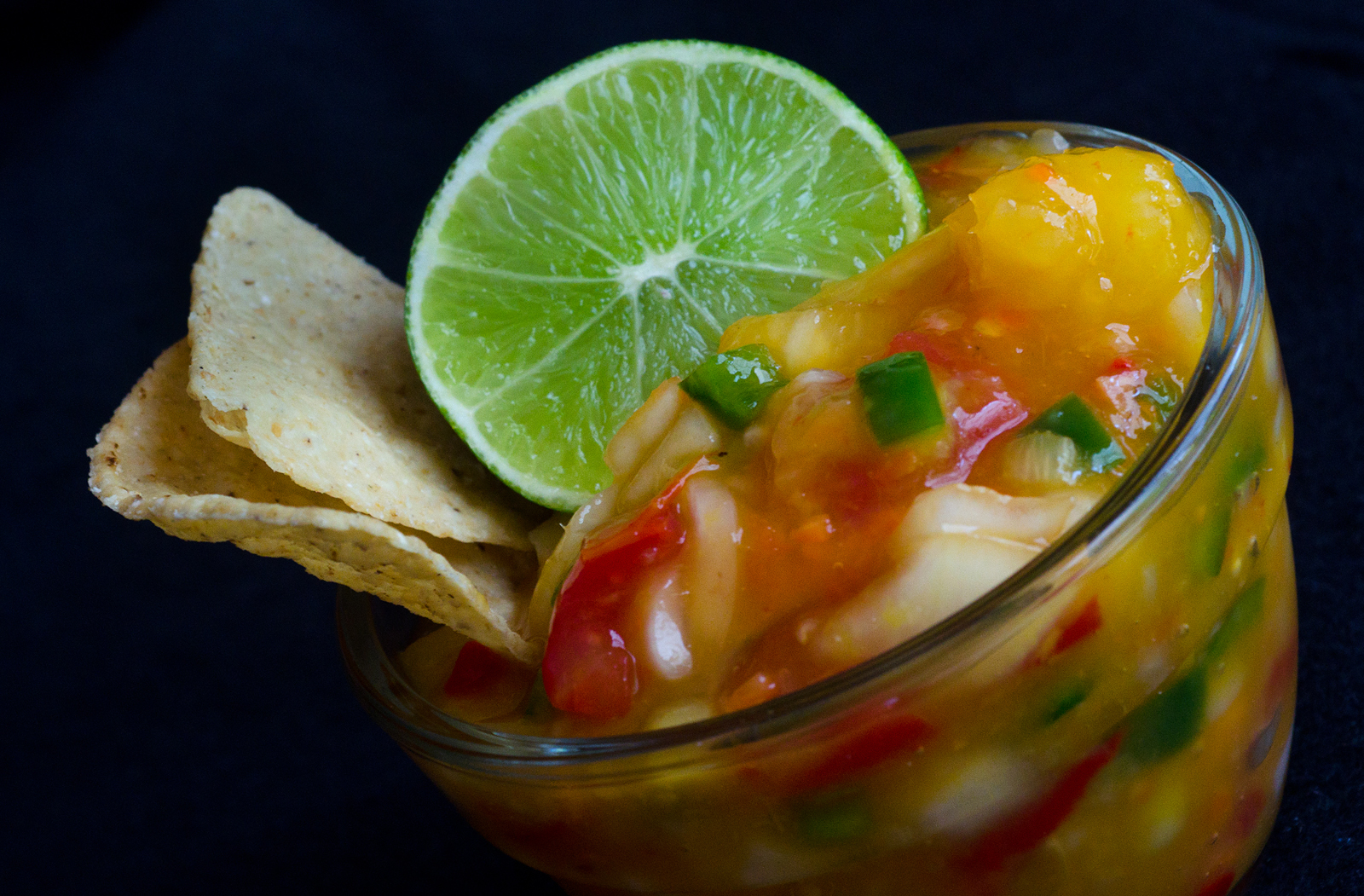 Dice up everything except the Mango and Habanero peppers. Add to a medium sized container with sealable lid. (as to refrigerate after assembly)
Add sugar,salt,cilantro, lime juice concentrate and garlic powder.
Extract all the fruit from the mango (exclude skin and pit) and blend in a mixer to puree, add to mixture.
Per instructions above ( have an expendable family member do this part), finely chop habanero peppers.
Try two peppers at first. Have same expendable family member test it out.
If they show no signs of seizure or organ failure, add two more. Be sure to ask them how they feel. Reassure them that you have plenty of beer.
Ask them if they can still feel their lips. If they respond in the affirmative, it may be enough peppers. You be the judge!