Grilling season is upon us.
My grill of choice is a model named after one of the founding fathers of Stockton California, a Captain Weber. It produces smooth even heat with the warm familiar glow of charcoal. I use a briquette chimney to avoid the smell and flavor of lighter fluid in the food.
I once had a sinister propane grill, but found it too work intensive. There were four areas on the grill ranging from warm to incinerate. Using the propane knob controls seemed of no use. I was lucky in acquiring this grill though, If I had purchased it at the store, it could have set me back well over 70 dollars. I was fortunate to have found it beside a road near town, and soon had it up and incinerating my food in no time at all. Ah, the joy of replacing the wheels on the bottom every so often. Cleaning was a breeze; just pull it out where the rain can get at it. It gained a wonderful petina.
One of my favorite taco recipes is for Grilled Asparagus and Tri-tip Tacos.
I like to use flour taco size tortillas, it's just a matter of taste. My family has told me on more than one occasion, that should I ever acquire taste, they would be sure to let me know.
Tri-tip marinade
1 large Tri-tip
1 cup soy sauce
1tsp ground mustard
12 chopped garlic cloves
1/2 tsp pepper
1/2 tsp of salt
1/4 cup olive oil
Mix ingredients in a large plastic beverage container. Place Tri-tip into zip-lock freezer bag, pour mixture in. Set everything in a bowl unless you totally trust the folks at Zip-Lock to have sent you the one that will not leak all over the kitchen, house, and backyard. Did I mention that charcoal grilling is an outdoor event unless you are aspiring to have your story on the "Darwin Awards". Let marinate for no more than 1.5 hours, or the meat will break down too much.
Asparagus Marinade
2 bunches of Asparagus, bottom third cut off.
12 chopped garlic cloves
1/2 tsp pepper
1/2 tsp of salt
1/4 cup olive oil
1 tsp freshly chopped dill
1 tbsp lime juice
Place Asparagus in a large Zip-Lock freezer bag. Add everything else, seal bag and roll around until mixed. Let rest for about 1.5 hours, shaking up occasionally.
Grill Tri-tip for about an hour on indirect heat after searing both sides on direct heat. This should produce medium done. During last 10-12 minutes of cooking, add Asparagus to grill. (Grill them for 10-12 minutes. Remove Tri-tip from grill; let rest at least 10 minutes, thin slice. Asparagus let rest in a glass dish.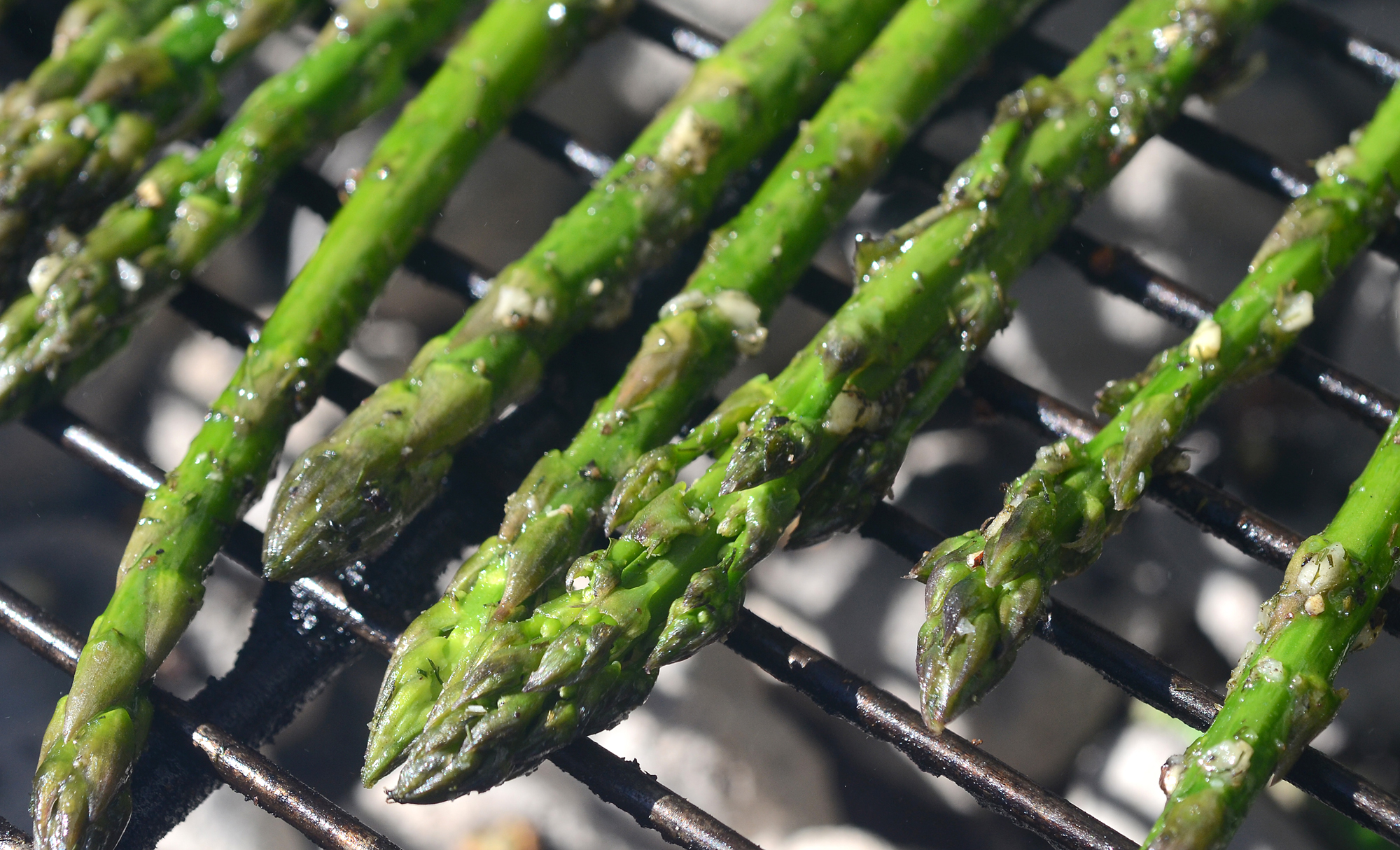 Grilled Asparagus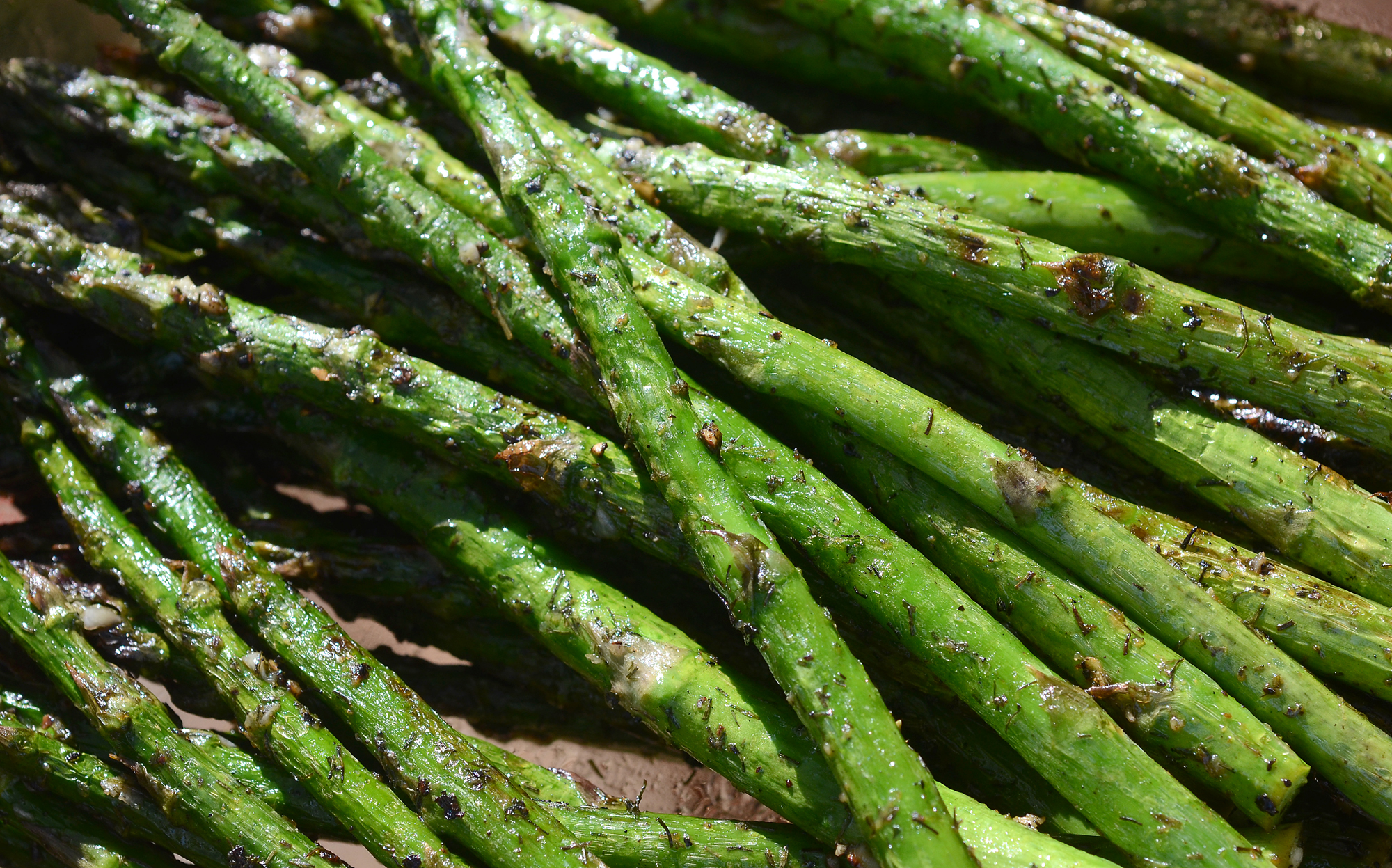 Grilled Asparagus
Taco preparation.
Heat taco sized tortillas on grill or indoor frying pan. Do not burn, and remove to plate. Add slices of Tri-tip, 3-4 Asparagus spears, and slices of onion, cheese of choice (I used white cheddar with truffles, Trader Joe's), sliced jalapeno peppers, your favorite salsa and sour cream. Yummy! You will have leftover unless you eat like wolves, like we do.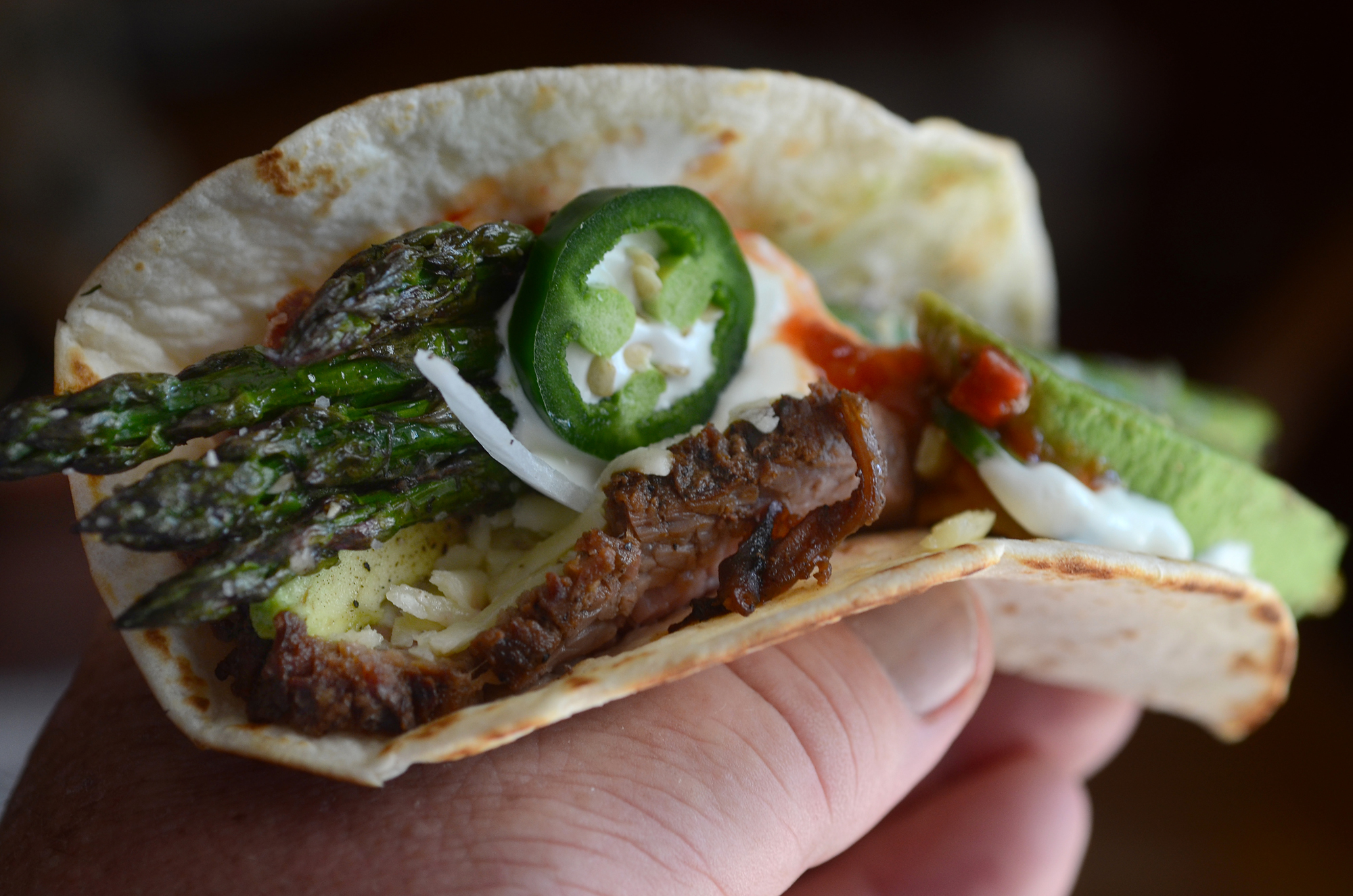 The last thing it saw on Earth