When I thought of Zion before this trip, images of biblical times or the subterranean city in the Matrix movie came to mind. I now have a more extensive visual library on the name.
Zion National Park is located in southern Utah. Our expedition included myself, my Travel Agent (wife Carrie) and trusted guard dog/emotional service animal "Mini," featured on the masthead photo for this site. Besides, "Mini" is one of the family, and she needed to broaden her travel horizons beyond our backyard.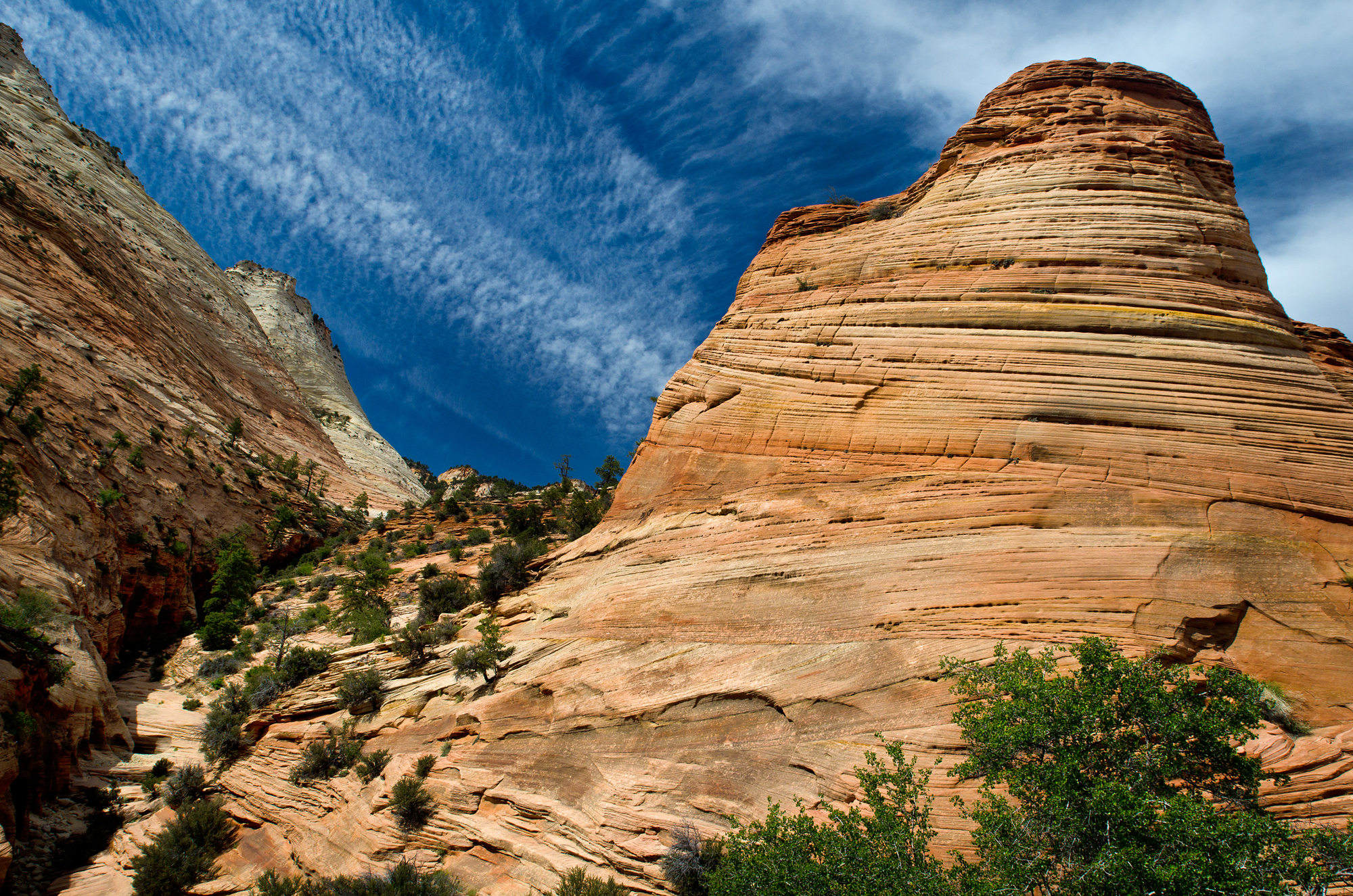 Our trip would take us from hotel to hotel, Zion to Monument Valley, Arches, and Canyonlands to Bryce Canyon and back to Zion. The full loop visiting some of the most amazing Parks in the western United States. We did not know it, but this time of year (late May) the deserts and canyons were ablaze with color from flowering plants.
Our first stay, and last stay, was at the Driftwood Lodge in Springdale, just west of the entrance to the park. Wonderful dog-friendly accommodations.
I would highly recommend this place. After a day of hiking/sightseeing or whatever, you rest on your own back porch with an unbelievable view. They are at http://www.driftwoodlodge.net
The photos on the website are what you see out your window. Just incredible.
Time for a hike!
After securing Mini at a pet babysitter  ("Krista's Pet Care" 435-260-2040, and yes they have them for a reason, no dogs allowed in Zion National Park) we took the shuttle from our hotel in Springdale to "The Narrows" trail head. This is a favorite of non-strenuous hiking trails in the park. The shuttle was packed with foreigners speaking in their native tongue as loud as possible to drown out the bus guides super loudspeaker system describing the natural wonders around in his native tongue. Native tongue vs. native tongue. Busman won when the passengers disembarked.
We walked along an easy path for a mile or so, and then started walking in the Virgin River. I was glad there was no moss growing on the rounded boulders that made up the riverbed, as that would have been a deal breaker for the hike. After a while, the riverbed turned into sand, and the going was a lot easier. We did not make it all the way to what was said to be the best part of The Narrows, but we went far enough to enjoy some great scenery.
On the way down the trail from The Narrows, we encountered a pair of hikers approaching from the inbound direction. The young woman was wearing appropriate hiking gear from the waist down; her top was however more belonging to a renaissance fair costume. One wrong move and she was out!
I immediately averted by eyes from her to see her handsome male companion smiling at me with not a lot of teeth. He was also covered in tattoos and looking very fit. I surmised he could be a professional hockey player, as they also do not have a lot of front teeth. I came close to complementing him on his quantity and variety of tattoos with the expression "Hey, nice tats!" However, I instantly realized this could be mistaken for another expression, and instead said "Howdy, Nice Day!"
We passed without incident.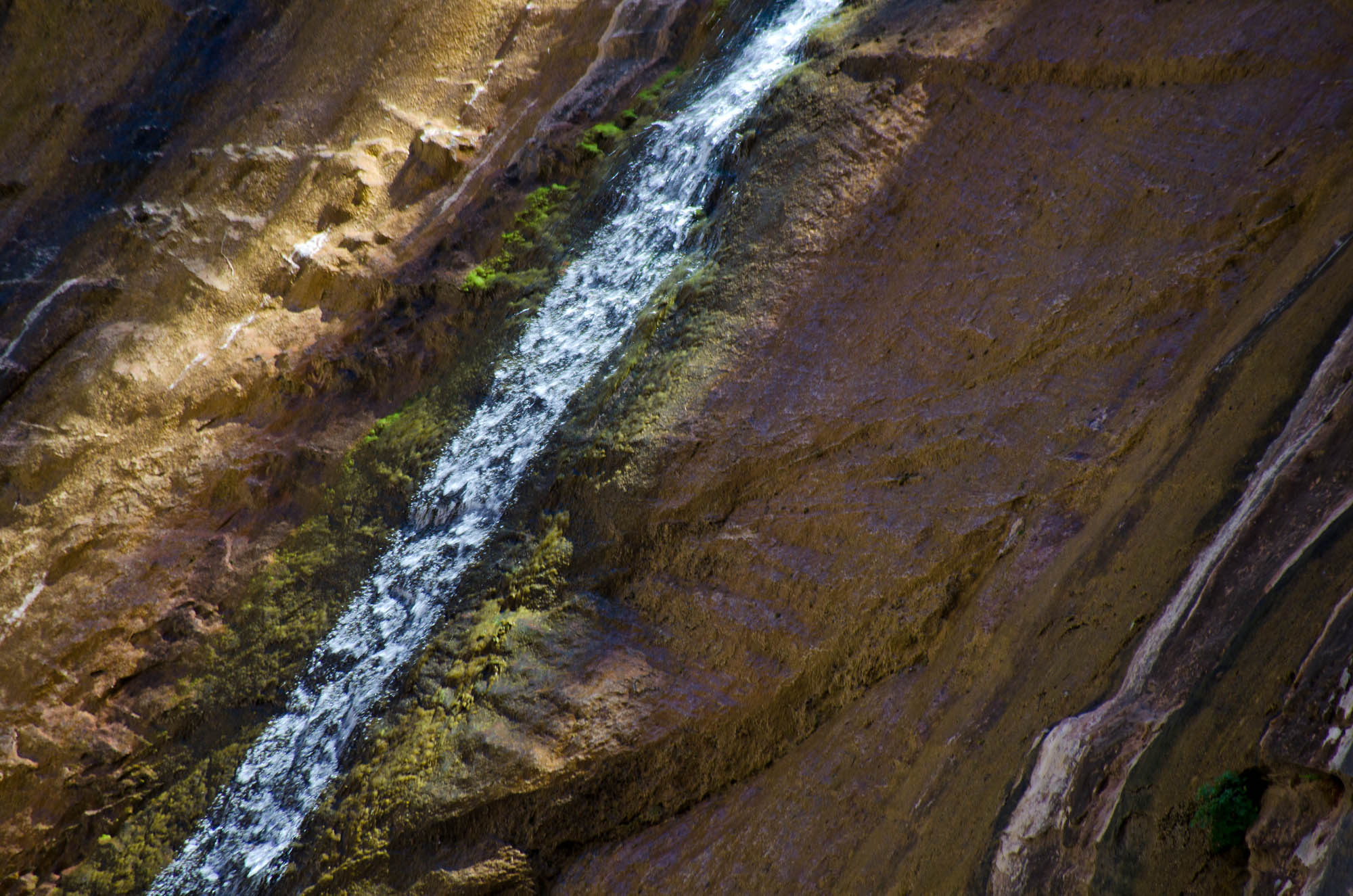 Another point of interest on this trail was the fair amount of people armed with what appeared to be fighting sticks. Almost everyone had one. I speculated there might be a marshal arts festival we had overlooked in the park brochure scheduled for that day. As it turned out, some shop was renting them to river waders to keep their balance. I did see a few waders that are more frugal with small logs used for the same purpose. I approved of the cheaper method.