The day started in sunshine followed by an afternoon light rain. I had seen most of Monument Valley on television programs and movies. This was one of director John Ford's backgrounds for "The Searchers," said to be the greatest western movie ever made. A great scenic place. Our party consisted of myself, my wife Carrie and our trusted family pet "Mini", a small but dependable protector of our home. She will be featured in future posts. We had planned to walk off trail in search of rattlesnakes and Gila monsters. Not!
I inserted a CD with the theme song from the movie "The Magnificent Seven" as our traveling in the west theme, along with soundtracks from Sergio Leone's spaghetti westerns featuring Clint Eastwood. The desert was blooming with flowers. The main entrance to the valley is on the west rim, near the "The View Hotel," and it sure had a view. From there, you can navigate your vehicle down a "road" through the valley. It is described as a road on the map, but on close examination, it is really more like a dried up stream bed, with oil pan/axle eating boulders strewn throughout the route. There was a span of 20 feet where it was a "normal" dirt road and the driving anxiety level decreased for about 10 seconds. A good 10 seconds. A wonderful 10 seconds. This is the kind of road you drive on when you are 16 years old, not as an adult. Also, every tourist appeared to be driving a rental vehicle and charging through the landscape when not tailgating the locals or us.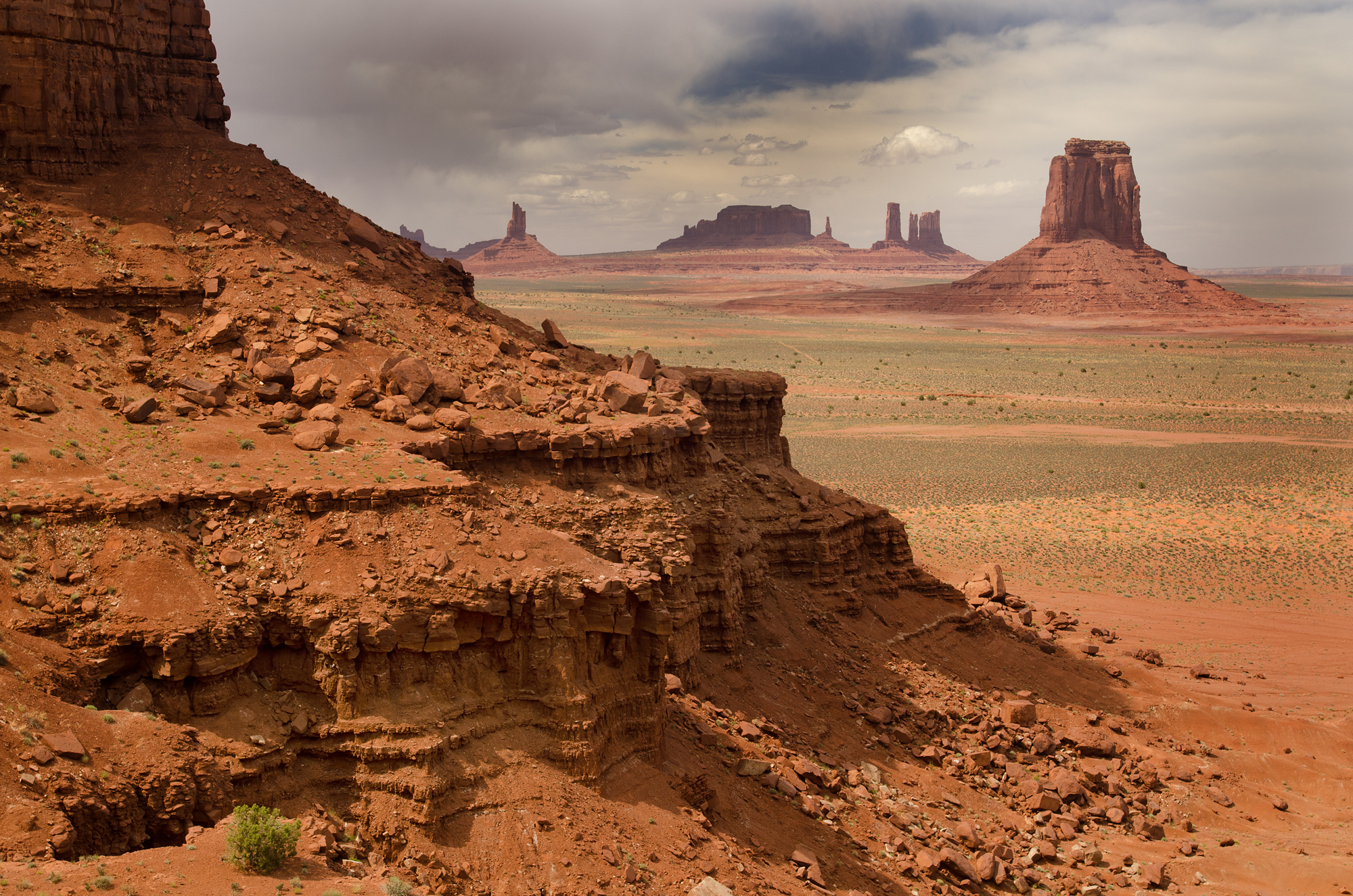 The Red Earth
The valley is amazing! Everywhere you look another iconic image. There are also Navajo jewelry stations at every turnout. They drive out, set up tables, and sell their wares. I believe my wife Carrie bought something from every one of them.
I cannot imagine those poor souls bearing the heat in the middle of summer. I bet this place really cooks. They are probably conditioned to the weather having lived there for a few years, since 1400 AD.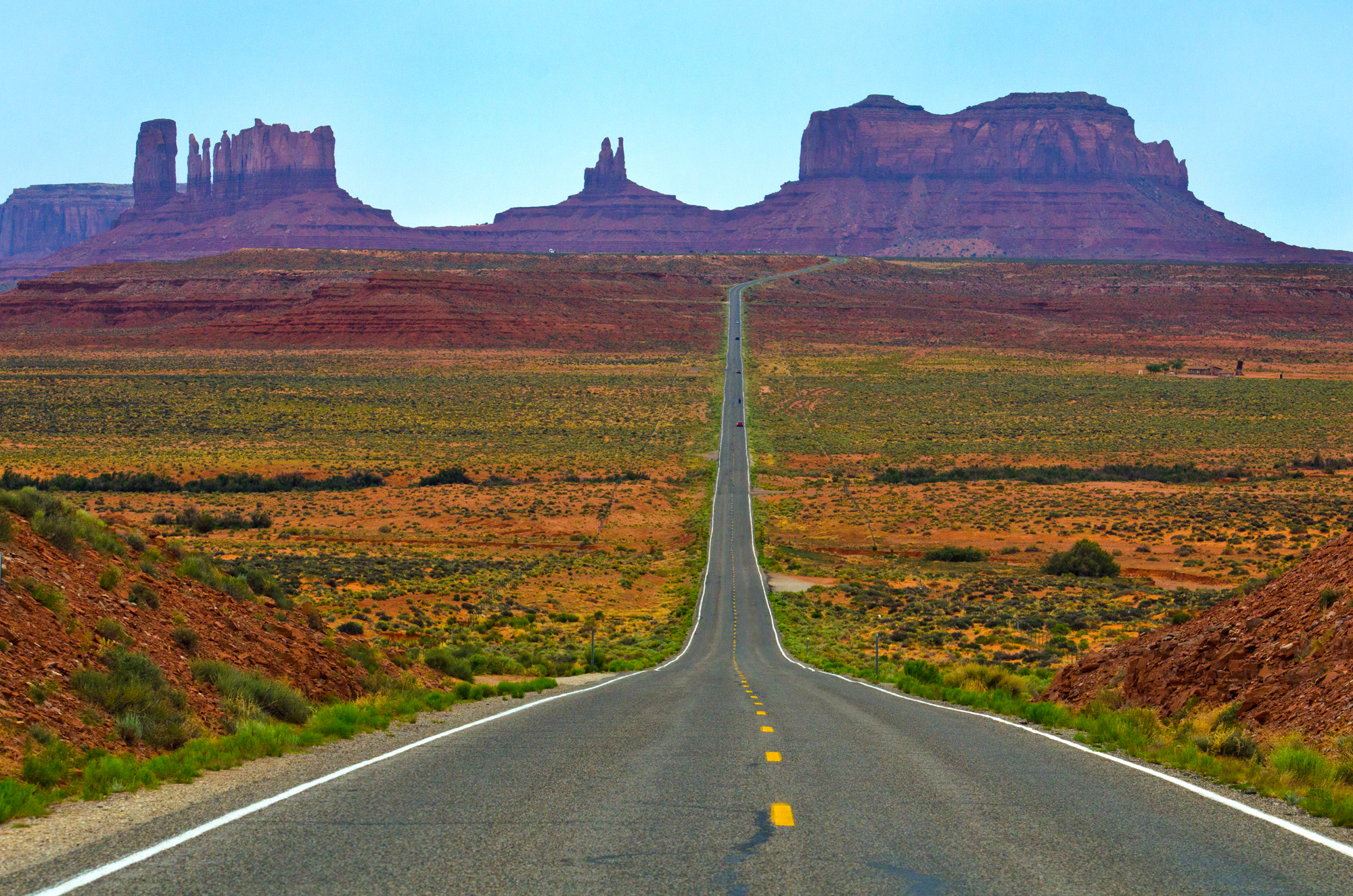 Forrest Gump Point
In the afternoon it started to sprinkle a little rain, not enough to make the drive any more hazardous than it already was, but added great light and clouds to the scenes being photographed.
View from hotel gift shop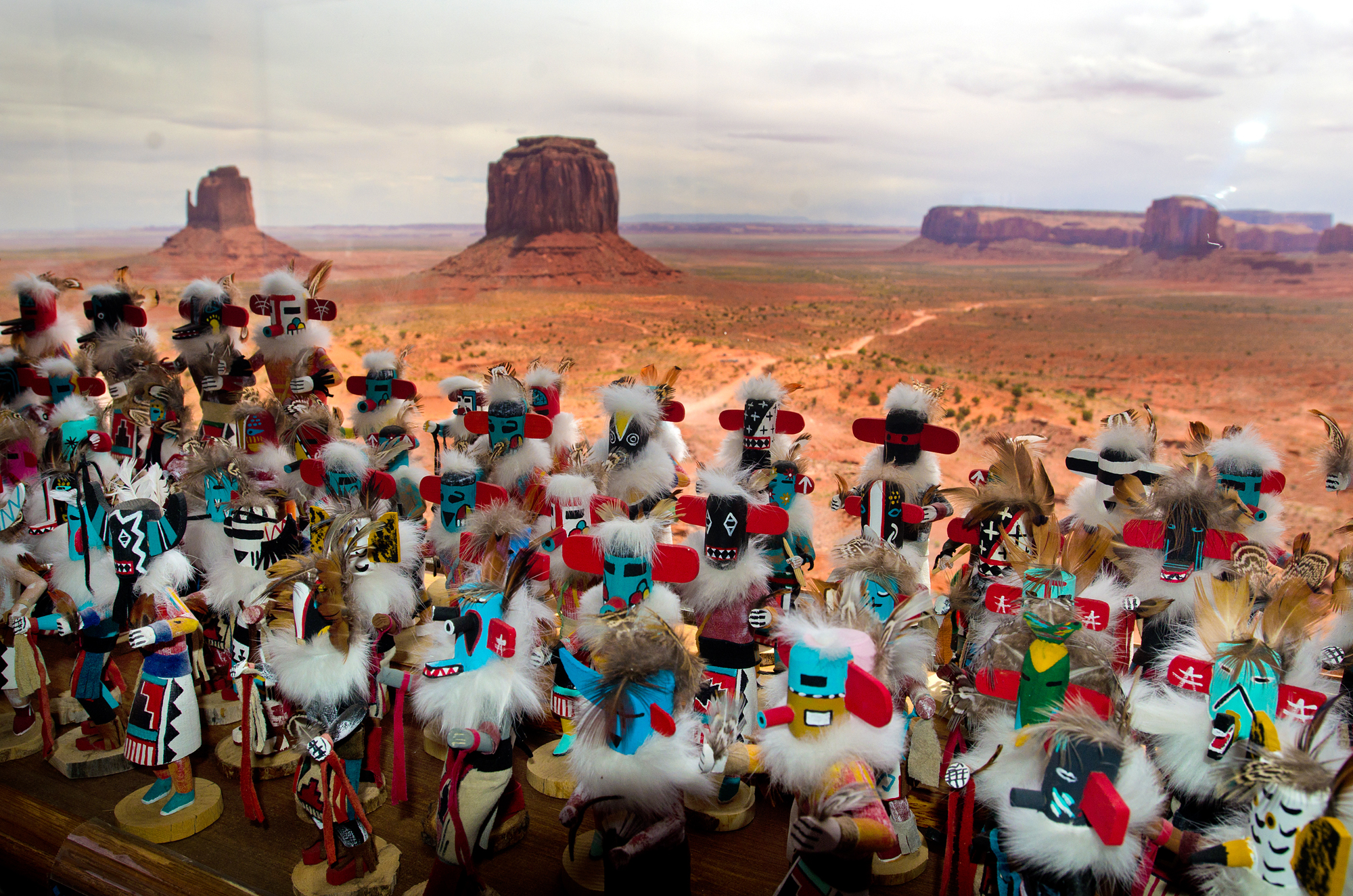 The Hat
We stayed in Mexican Hat, a little north of the Valley, in a pet-friendly motel, The San Juan Inn (which overlooked the San Juan River). It was a rustic experience that not only had the rooms, but a Trading Post and restaurant on site. Food was great, and being in Navaho country, they featured Indian fry bread. The town was named after a rock formation made from eroding sandstone, seen in many Warner Brother cartoons. I had half expected to see the Roadrunner and Wile E. Coyote racing down the road. We did see couple of real roadrunners near Zion, but not here. Another roadside attraction is Goosenecks State Park, just north of Mexican Hat. Yet another breathtaking view of the San Juan River.
A local told us that last year, April 1st, a local newspaper reported that the Mexican Hat rock formation had collapsed. The entire population drove out to the site to discover the April Fool's Day prank, the rock was still standing.
We stopped for a "get out of Dodge" breakfast at the Hat Rock Cafe, in Mexican Hat. Had a great meal, featured Indian Bread, and good conversation with locals Monique and Vangeline, who were in charge at the time.Vangeline just happened to have native jewelry in her car, which Carrie had to have a look. That parking lot can get expensive, but the jewelry is beautiful.
After Our trip we viewed a VERY funny new release movie named "A Million Ways to Die in the West". and almost all of it was shot in Monument Valley. The exact same places we were at. This was really neat to see the big valley on the big screen.
Copyright secured by Digiprove © 2014