Fresh Basil Pesto Pasta
Have you ever had fresh basil pesto? If so, then you know what a delicious additive it is to so many Italian dishes. Or by itself, just top off a cracker and cheese for a tasty snack. I would "pair" it with a red, white, or pink wine, or maybe a brown beer. Or if you feel spirited, maybe some blue antifreeze colored wine cooler. If you are not in the mood to travel to Italy to procure such a treat, just make it yourself! I have sampled manufactured jarred pesto sold the local supermarkets, and it has a flavor that I can only describe as a mixture of lawnmower shavings and a salt lick. I assure you I have never knowingly consumed either of the two. I can only imagine that the chef is mindful of that "millennium shelf life", and added a lethal amount of salt to keep it as fresh as the decade it was made.
Through the years, I have cooked pasta with varied results. To test cooked pasta, I have bitten through it to judge the texture, threw it on the ceiling to see if it stuck, and have even consulted a local shaman. All of these methods worked to a varying degree. What I have found to be the best method for cooking pasta is to follow the directions on the box. These pasta masters are a clever group, and when all else fails; follow directions. It has never failed. Try this recipe; it is well worth the effort.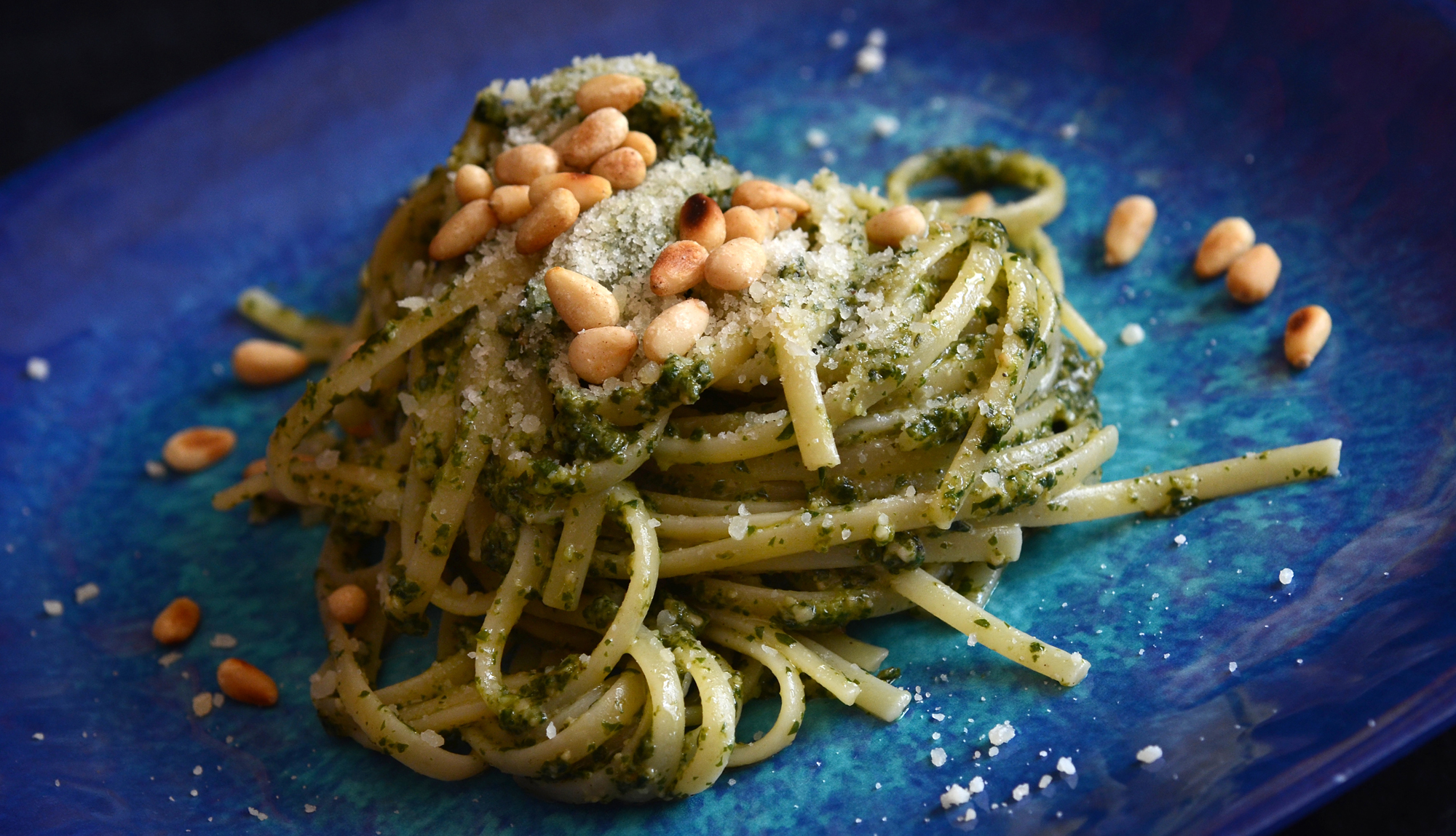 Ingredients
8 oz fresh basil leaves, (2 packages of Trader Joe's)
1/2 cup freshly grated Romano or Parmesan-Reggiano cheese (save another ½ cup for garnish)
1/2 cup extra virgin olive oil
3/4 cup toasted pine nuts
6 garlic cloves, minced
Sea Salt and freshly ground black pepper to taste
One box Packaged Pasta (linguine)
Method
1 Measure and pour pine nuts in a frying pan, set heat on high, keep the nuts moving as not to burn them. When they are toasted, they will release their flavorful oils. Remove from heat, stop toasting process by pouring them into a large room temperature plate. This will stop them from burning. Save 1/4 cup for garnish. Place the basil leaves and 1/2 cup toasted pine nuts into the bowl of a food processor and pulse a several times. Add the garlic and Parmesan or Romano cheese and pulse several times more. Scrape down the sides of the food processor with a rubber spatula.
2 While the food processor is running, slowly add the olive oil in a steady small stream. Adding the olive oil slowly, while the processor is running, will help it emulsify and help keep the olive oil from separating. Occasionally stop to scrape down the sides of the food processor. Add salt and freshly ground black pepper to taste. Divide in half, saving some for other purposes such as added to cheese and crackers, or add to a pizza. Yum!
3 Cook pasta per package directions. Save one cup of pasta water, Drain in colander, mix (carefully fold) one half of pesto you just made into the pasta in a large saucepan or sauté' pan, or whatever, add pasta water as needed. The cooked pasta will suck out all moisture in the pesto, so adding the pasta water back will make it hydrated one more. Serve with toasted pine nuts and Parmesan cheese. This is the stuff dreams are made of.