I have no idea when or why chicken pot pies were termed comfort food. They can be extremely uncomfortable.
In Stephen Spielberg's movie "The Lost World", Dr Ian Malcolm  (Jeff Goldblum) describes the interaction of humans and dinosaurs as "Oh ,Yeah. Ooh, Ahh, that's how it always starts. Then later there's running and screaming."
This is also the same with the interaction of humans and comfort food. When you display the final dish, everyone says Ooh and Ahh! And after the try the first bite (that always burns skin on the top of your mouth off) then comes the running and screaming.
My mother was an adventurous cook later in life. Unfortunately for us, this was not so during my upbringing. Meals were full of danger and peril. During good times we indulged ourselves with store-bought food . The Chicken pot pies of my youth consisted of a smallish foil wrapped pie that was frozen at the time of the last ice age. After superheating (baking) the artifact for an hour, directions indicated that one should wait a sufficient period as to cool the pie to the temperature of hot lava. Our family would tear into the meal like a pack of starving wolves.
Then the running and screaming. That stuff was hot!
I have learned since that time to wait an even longer period, something a growing child would never have the patience for. Maybe a minute or so longer, and a lot less severe burns.
The following BBQ Chicken Pot Pie recipe was gleaned and modified from four or five recipes online, one or more written by a chef who is no stranger to prison. I guess that does not narrow it down as most chefs on the food network have prison tattoos, and would be a frightful sight in any dark alley.
For this recipe I double the crust, as the family likes it on the bottom as well as the top. Filling is qs (quantity sufficient)
This will make about 6 medium pies, or 8 smaller ones. I also make it in two batches, as I do not want to overload the food processor.
For the Crust (double this part, make two discs)
•    2.5 cups all-purpose flour (spooned and leveled), plus more for work surface
•    2 teaspoons sugar
•    1/2 teaspoon fine salt
•    2 sticks cold unsalted butter, cut into 1/2-inch pieces
•    10 tablespoons ice water
Directions
•     In a food processor, pulse together flour, sugar, and salt. Add butter and pulse until mixture resembles coarse meal, with a few pea-size or smaller pieces of butter remaining. Add 10 tablespoons ice water. Pulse until dough is crumbly but holds together when squeezed do not over-mix. Form dough into a disk, wrap tightly in plastic wrap that sticks to everything except what you intended it to stick to, and refrigerate until firm, 1 hour or longer to make sure the butter does not melt. (or freeze, up to 4 weeks).
Cooked, chopped chicken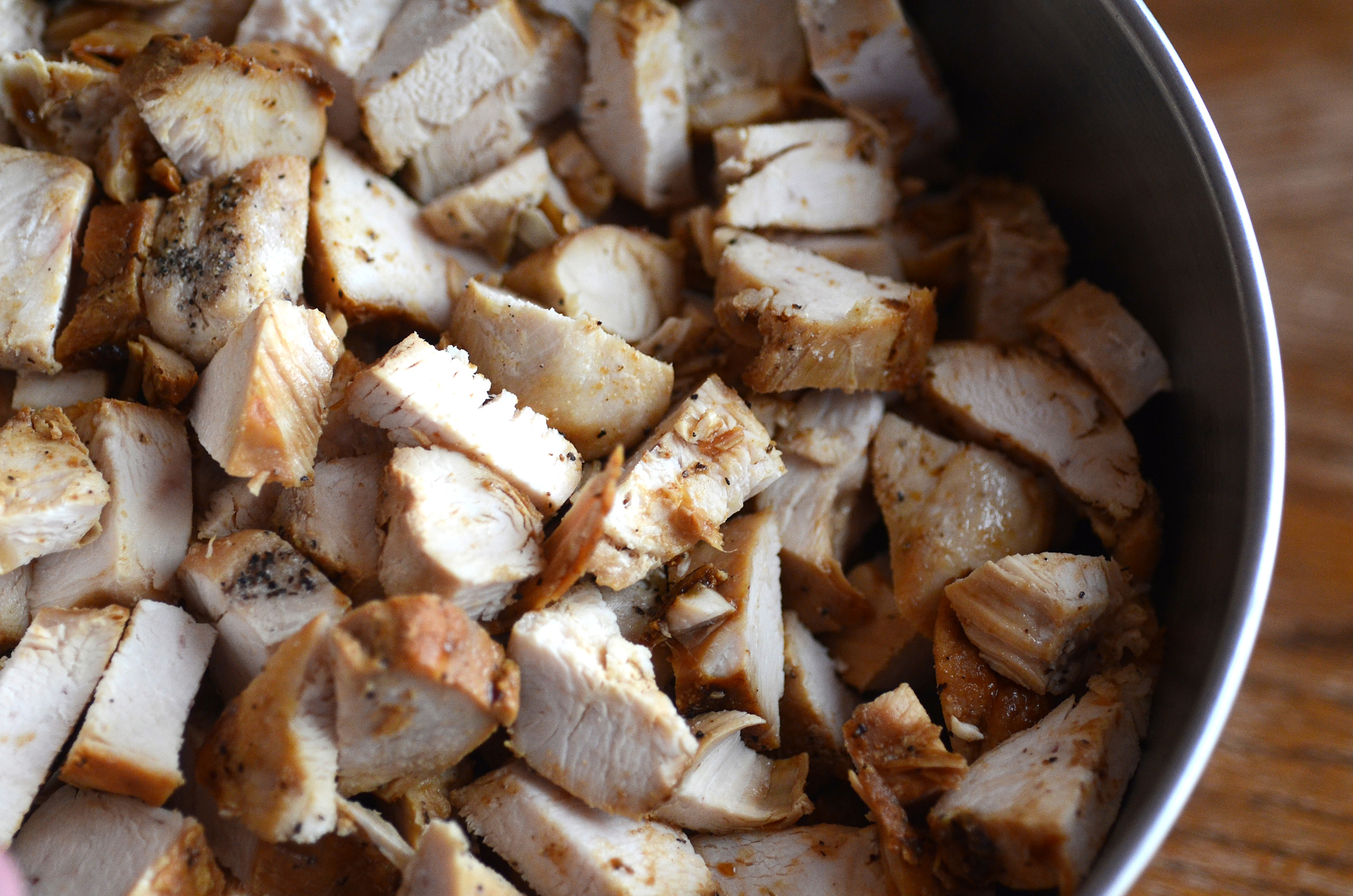 Onions smothered in butter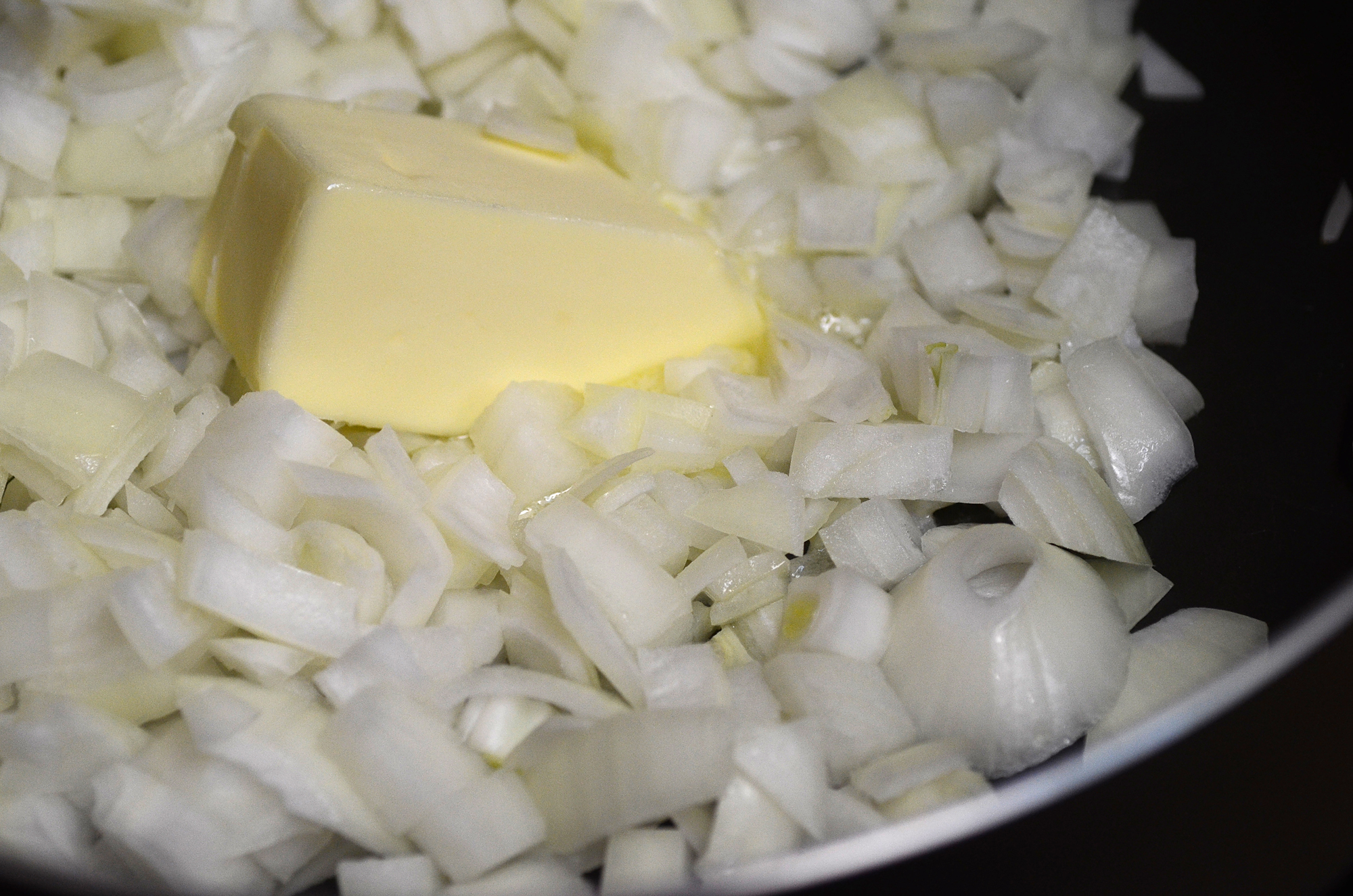 Everyone in the Pool!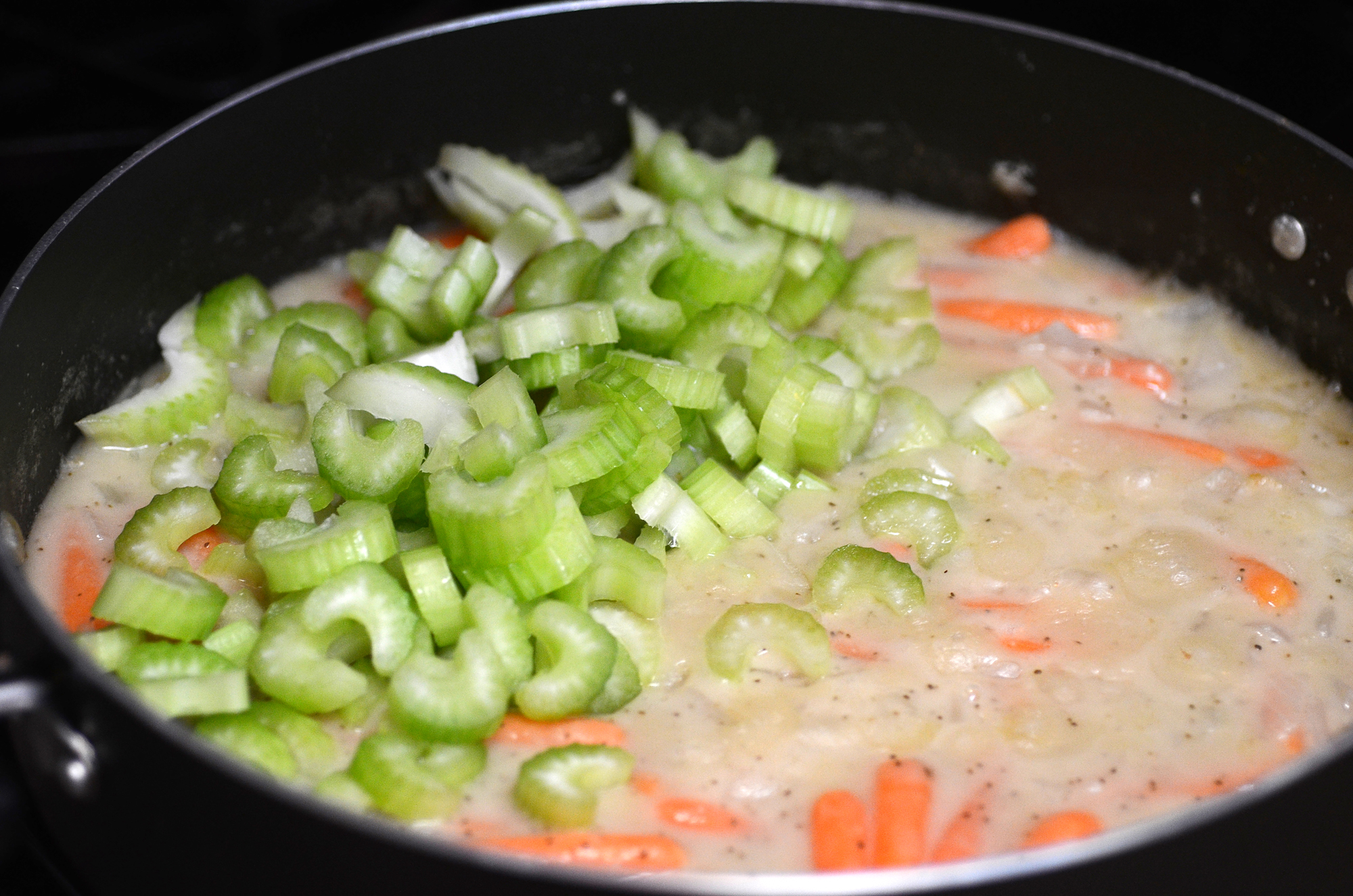 Add BBQ chicken chunks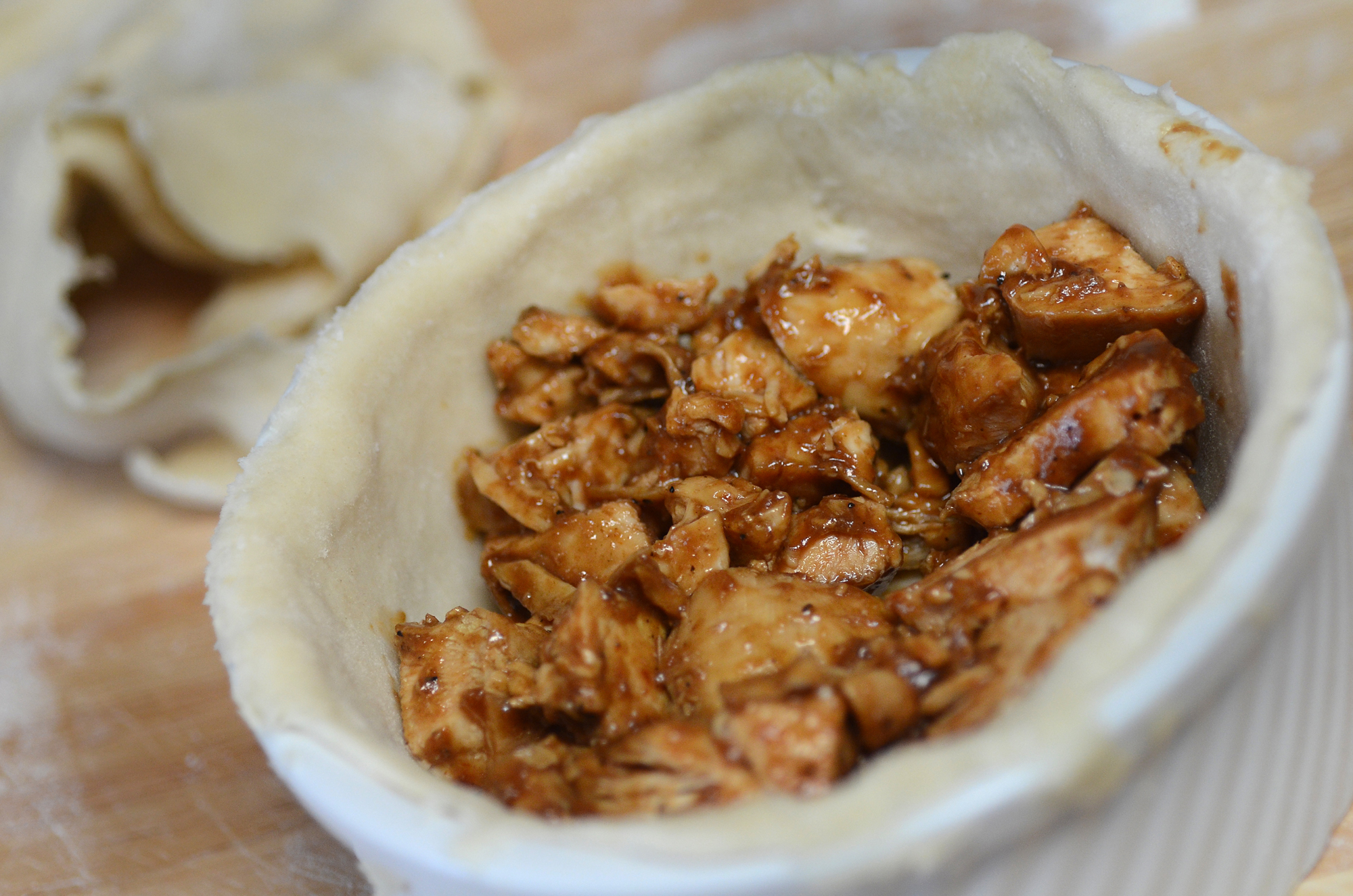 Baked!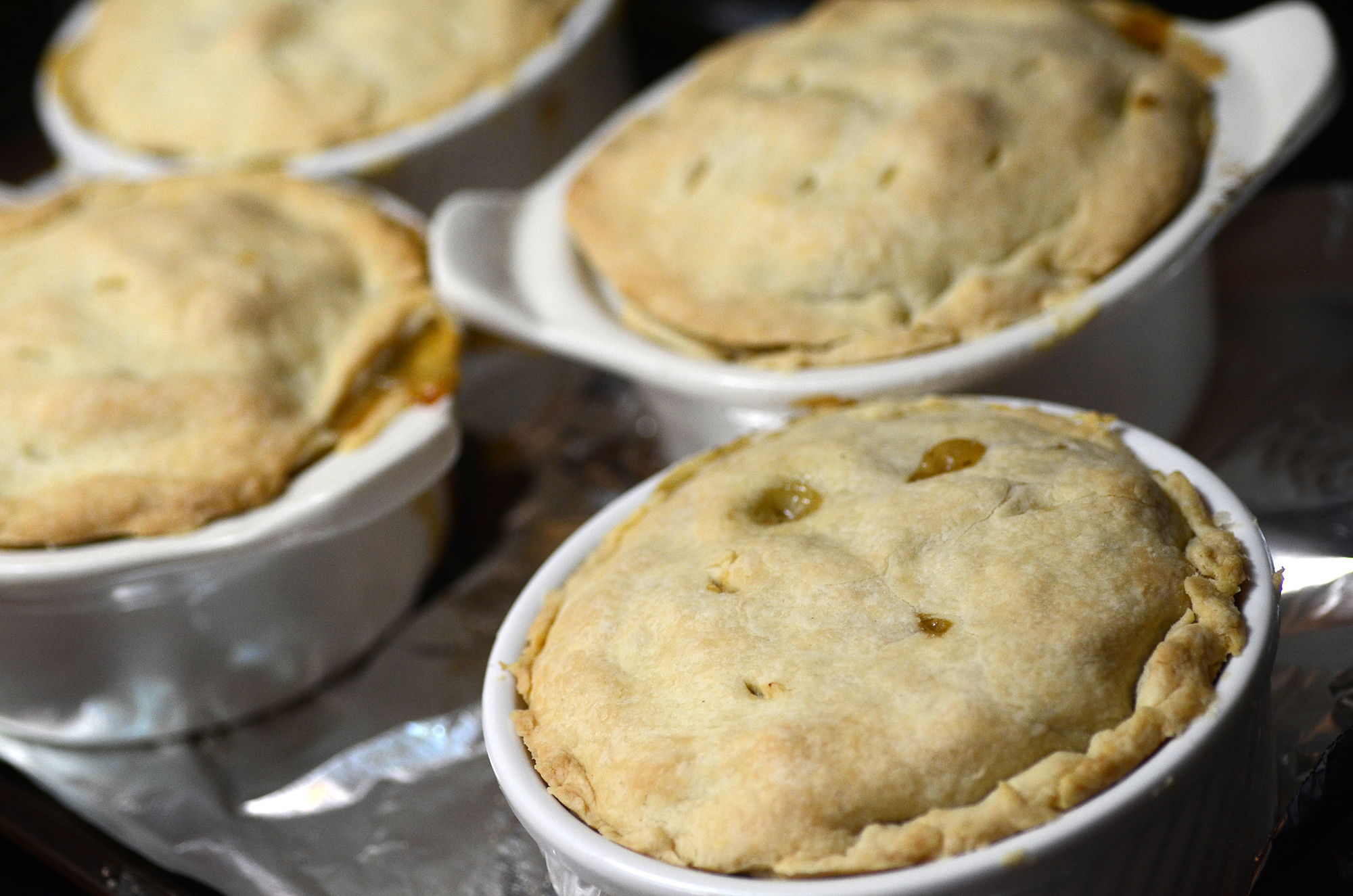 For the Filling
•    2 pounds skinless, boneless Foster Farms ® chicken breast halves – cubed
•    1 package baby carrots
•    1 package frozen green peas
•    1.5 cup sliced celery
•    1 cube cup butter
•    2 chopped onions
•    1/2 cup all-purpose flour
•    1 teaspoon salt
•    1/2 teaspoon black pepper
•    1/2 teaspoon celery seed
•    4 cups chicken broth on hand
•    1 cup milk
•    1/3 cup BBQ sauce
•    1 tsp sage
•    1 tsp tyme
•    4tbsp olive oi
•    1 egg, tbsp water (egg wash) optional
Directions
•    Preheat oven to 375 degrees F
•    In a frying pan, fry chicken (salt and pepper to taste) in 4tbsp olive oil searing both sides, cover and cook on medium low heat for 20 minutes total. (or less if it looks done, not dried out) Remove from heat, and set aside. After it has cooled, chop in chunks, add and mix in BBQ sauce, set aside.
•    In the saucepan over medium heat, cook onions in butter until soft and translucent. Stir in flour, salt, pepper, sage, time and celery seed. Add 2 cups chicken broth and milk. Add celery, carrots, and peas. Everyone in the Pool! Simmer over medium-low heat for about 20 minutes until thick and cooked. If too thick, add more chicken broth. Remove from heat and set aside.
•    Take a quarter of one of the dough discs, roll out to 1/8 inch on a substantial cutting board or clean surface (small ones will just skid away during each roll). Line an individual dish (I use a ceramic baking dish) trim off excess.
•    Place the chicken mixture in bottom pie crust. Pour hot liquid mixture over. Cover with top crust (excess you have trimmed off and have re-rolled), seal edges. Make several small slits in the top to allow steam to escape. Repeat until you are out of dough, filling or dishes.
•    At this point you can brush any egg wash mixture you like to make it super golden. (beat an egg and a little water, brush on the top)
•    Bake in the preheated oven for 45 to 55 minutes, or until pastry is golden brown and filling is bubbly. Cool for at least 10 minutes before serving. Have expendable relative test the heat. No screaming, dig in like a pack of wolves!